2013 Mini Paceman Driving Impressions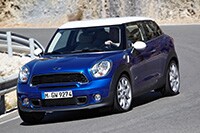 Mini proclaims itself to be a purveyor of fun, as well as mere transportation, and it's hard to find fault with that proposition as applied to the new Paceman. While increased size and mass take a little edge off its straight-ahead performance versus comparably equipped basic Mini Hardtop models, we found the turbocharged Paceman S model with all-wheel drive gets across intersections briskly, and sprints to 60 mph in just over seven seconds. Top speed is 128 mph.
Several states of tune are available. The standard Paceman engine is a 1.6-liter four-cylinder that produces 121 horsepower and 114 pound-feet of torque. The turbocharged version of this engine in the S model is rated at 181 horsepower and 177 pound-feet of torque. The John Cooper Works version generates 208 horsepower and 207 pound-feet of torque.
Like all Minis, the Paceman has a rigid chassis, exceptional roll stiffness, quick steering that's laser precise, and eager responses. And it's these traits, more than acceleration, that make driving this or any other Mini so enjoyable. The connection between driver and machine verges on sports car territory, making even the most ordinary trips a treat.
There are a couple asterisks to the foregoing. For one, in a market increasingly obsessed with fuel economy, the S model's EPA ratings, 26/32 mpg City/Highway, are only so-so for this size class.
More important, the combination of firm suspension tuning, limited suspension travel, and low-profile run-flat tires on the S can become punishing on patchy pavement.
Nevertheless, the Paceman provides a relatively unfiltered driving experience that's rare today.