2013 Mini Paceman Walk Around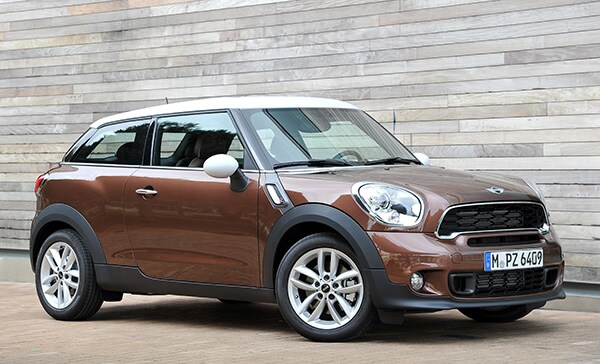 While the Paceman shares the same 102.2-inch wheelbase as the Countryman, the design isn't a mere three-door version of Mini's biggest hauler. Although it's 16 inches longer than the Hardtop, Paceman preserves the proportions of its smaller cousin, with the same downsloping roofline, lower than that of the Countryman, and a rising beltline. The design is reminiscent of the Range Rover Evoque, and like the small Range Rover includes the option of a contrasting color for the roof, a rare option in today's market.
As you'd expect, the Paceman has its own alloy wheel designs, eight of them in fact (17-inch standard, 18- and 19-inch optional), as well as a going away view, distinguished by oversize round taillights, that differs from that of Countryman.
Interior
As with the exterior, the Mini design team works overtime to remind owners that they're in possession of a car that thumbs its nose at convention, and the Paceman is no exception to this ethic. This can require some familiarization on the part of the owner. In particular, the center-dash speedometer takes some getting used to, while the tachometer rides atop the steering column. That speedo has expanded over the years, and is now about the size of a dinner plate, dominating the entire dashboard. On the other hand, it makes a very good home for the optional navigation system.
Speaking of options, Minis offer many, telematics, cosmetic, and performance-oriented. The idea is to give owners lots of latitude to customize their cars, and of course increase the corporate bottom line.
Paceman's interior materials are of high quality, the standard seats are sporty and supportive. The relocation of the power window switches from the center stack to the doors is a welcome update. Retro has its limits.