2013 Nissan Altima Introduction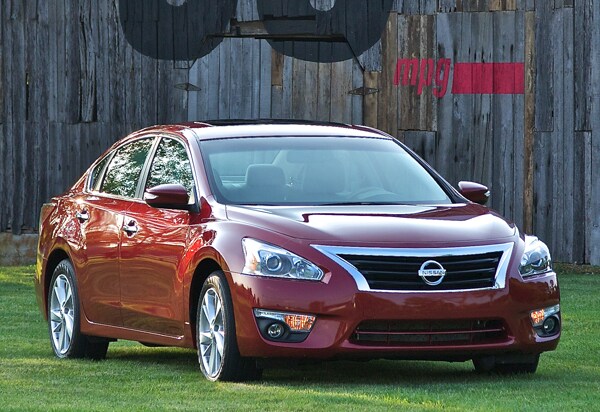 The Nissan Altima is all-new for 2013. With a combination of innovative mechanical components, carefully tuned ride and handling, advanced cockpit connectivity features and sleekly contemporary styling that belies its price class, the fifth-generation 2013 Altima feels like it's a class above its mid-size segment while providing comfortable, efficient family transport.
Most 2013 Altima models will come with a 182-horsepower 2.5-liter four-cylinder, but a a vigorous, upscale 270-hp 3.5-liter V6 is available. The thrifty four-cylinder engine is newly redesigned and, combined with a vastly improved Nissan CVT (Continuously Variable Transmission), the result of 20 years of refinement, this drivetrain results in a segment-leading 38 mpg EPA Highway rating. That's better than Ford Fusion Hybrid, Chevrolet Malibu ECO, Hyundai Hybrid or any other competing mid-size sedan.
We found the Altima 3.5 with the V6 engine a brilliant performer, but the Altima 2.5 with the four-cylinder engine delivered just average performance.
Inside, the top-of-the-line Altima SL trim was very luxurious, and the SV trim with cloth upholstery was also very nice. All of them are very quiet underway.
Combine headline-making fuel efficiency with a variety of features and creature comforts not generally found in non-luxury mid-size sedans, and the 2013 Altima, already shouldering its way into Nissan Maxima territory, makes a stylish, affordable and tempting choice for families working their way up the scale.
Nissan Altima competes with Volkswagen Passat, Honda Accord, Mazda 6, Toyota Camry, Hyundai Sonata, Kia Optima, Chevrolet Malibu and Ford Fusion.