2013 Nissan GT-R Introduction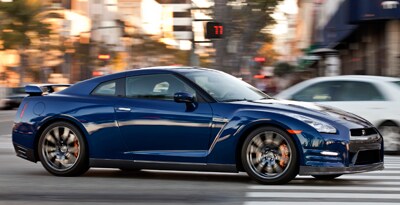 The Nissan GT-R is a supercar with a dedicated following, and no other car on the market can provide such a vast performance envelope for the price. The 2013 GT-R has been treated to even more power and handling upgrades making this the best version yet.
Nissan produced the Skyline GT-R between 1969 and 1974, and again in 1989 to 2002. As Nissan's leading performance vehicle, the car quickly garnered a reputation for speed and affordability. It became a regular on the motorsports scene and even earned the nickname Godzilla. In late 2007 Nissan dropped the Skyline badge and brought out the new all-wheel-drive GT-R to the Japanese market. In 2009 it was brought to American soil and has had subtle tweaks each year since.
For 2013, Nissan GT-R gets a retuned suspension. Inside, a new blue lighting treatment has been added to the tachometer, and a rearview monitor is standard on all 2013 GT-R models.
The 2013 Nissan GT-R boasts an incredible body of power, at 542 horsepower and 466 foot-pounds torque, an increase of 15 hp and 15 lb-ft over 2012. It has a 6-speed, twin-clutch sequential gearbox and a Launch Control system that is easy to use and supplies neck-bending efficiency.
The car is magnificent to drive. It is the perfect machine to take to the racetrack, and on your way home you can stop off at the grocery store to load up a week's worth of shopping with ample room to spare. It's an every day car with a bite large enough to outdo Jaws.
The cabin contains all the creature comforts one could need, such as climate control and a navigation system that responds via voice command. On the LCD there is a surfeit of data and virtual gauges available to inform the driver of every last detail of the car's dynamics.
The two door, 2+2 quasi-coupe is offered with just one powertrain, a twin-turbo 3.8-litre V6. Shifting is either automatic or by the steering column-mounted magnesium paddle shifters. The horsepower is increased from 530 to 542 and its impressive torque arrives over a broader range, delivered from 3200 rpm to 5800 rpm. The structure of the car and spring rates are stiffer and the shocks received newly designed bypass valves.
The 2013 Nissan GT-R arrives in two trim levels, Premium and Black Edition. The GT-R Premium doesn't want for much with its Bilstein Damptronic system, Brembo brakes, and 20-inch super-lightweight forged-alloy RAYS wheels. It has integrated LED running lights, voice-controlled navigation with driver configurable display system, rearview monitor, leather interior, and an 11-speaker, dual subwoofer audio system, developed in collaboration with Sony and Bose. The GT-R Black Edition gets special 20-inch black super-lightweight forged-alloy RAYS wheels, dry carbon-fiber rear spoiler and red and black leather Recaro seats.