2013 Nissan NV Introduction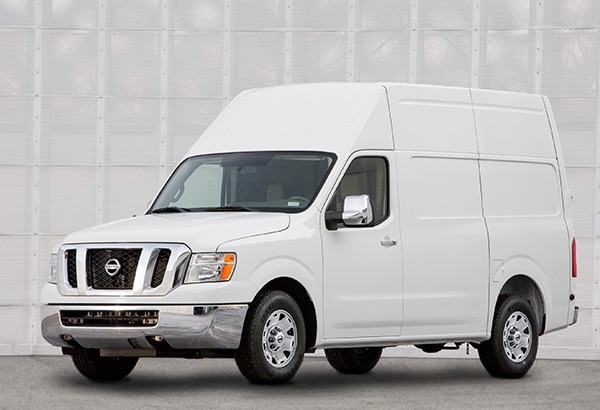 Nissan isn't afraid to push creativity and take chances, for example the Cube, Juke, and Murano Convertible. Quirky with an eye on function. A convertible SUV is a wonderful thing to have in the vehicle world.
So is a cargo van you can walk around in. It's not exactly a new idea, bread trucks. Mercedes introduced the Sprinter in Europe in 1995; in 2000 it came to the U.S. badged Freightliner and Dodge, and now it's Mercedes again. It runs a few thousand dollars more than the Nissan NV, depending on the model. The Sprinter offers a four-cylinder turbodiesel engine, while the Nissan NV sticks to a V6 and V8.
The Nissan NV uses the Titan powertrain, but not the chassis. A new ladder frame was built for the NV, signaling how serious Nissan is about bringing a challenger for not only the Sprinter, but Ford and Chevy, which dominate the straight cargo van market.
The basic Nissan NV S is a steel box with water-repellent seats, hardboard trim, a fat useful center console, good audio system, wide-opening (243 degree) rear cargo doors, 57 integrated reinforced cargo mounting points, six floor-mounted D-rings, and 10 exterior roof rack mounting brackets.
The high roof grows straight up by nearly two feet, increasing the height from 84 to 106 inches, and expanding cargo space by 38 percent, from 234 cubic feet to 324. If you need to stand up inside, this is it.
For a few days we used our NV as a tow truck/race shop/parts bin/changing room. We didn't sleep in it, but it would be easy to do so. We can't think of anything it won't do, storage or comfort-wise. Other racers commented on the versatility and utility of the design.
As a tow vehicle, it's impeccable. We towed 8500 pounds, and it couldn't have been smoother. We towed the trailer empty and hit 80 mph, still rock steady. The NV3500 is rated to tow 9500 pounds.
Our NV3500 high roof had the optional navigation system, using a tidy 5-inch touch-screen we used frequently with satisfaction. Love the rearview monitor showing the tow-hitch ball, aiming perfectly for its spot under the cap on the trailer tongue, nailed it every time, piece of cake.
Other options were $390 for side and roof-mounted airbags, and $460 for the tow package.
The passenger vans are in another league. They can get plush. They carry 12 people in four rows of two, three, three, and four.
The 5.6-liter V8 makes 317 horsepower and 385 foot-pounds of torque at 3400 rpm. The 5-speed automatic transmission shifts sharply and in all the right places. Its 3.54 final drive ratio balances good torque on freeway hills with good fuel mileage (the V6 has a 3.36 ratio). We got 11.9 mpg running hard on the freeway, towing our load. Without the trailer it was about 16 mpg. We set the cruise control at 62 mph on the level, and got 20 mpg. Impressive, for a big V8 with the aerodynamic exposure of the tall roof.
The 4.0-liter V6 makes 261 horsepower and 317 foot-pounds of torque. We didn't drive one, but that sounds good for the half-ton 1500 and three-quarter-ton 2500 models. But the V6 torque peaks up at 5200 rpm, so we wonder about towing.
The NV handles well. The steering is slow, unsurprisingly, but it's light for parking-lot turning. The good response on the road likely comes from the new boxed-in frame, and the rigidity it brings to the 146.1 inch wheelbase, which is 2 inches more than the Sprinter (which offers an extended model with a 170-inch wheelbase).
The brakes are excellent, with four-wheel discs having rotors just over 14 inches. Our van wasn't equipped with a trailer brake unit, so a lot was asked of the discs, with four tons back there wanting to push the NV over a cliff. We paid attention to our driving, always thinking ahead. There was never a moment where the brakes didn't do their overtime job.