2013 Nissan NV Walk Around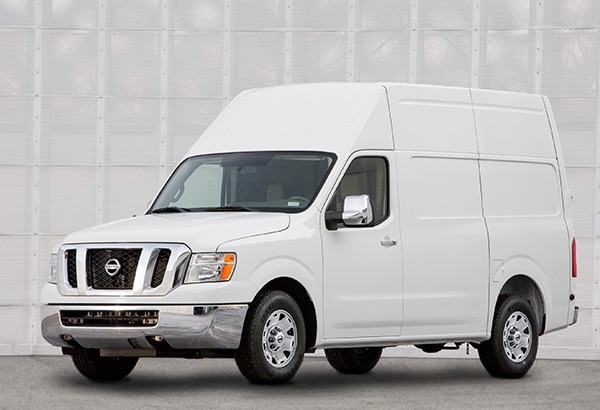 The Nissan NV borrows the Titan pickup truck's nose, at least the grille parts, with sleek headlamps at the corners. The overall lines are nice, for a steel box. The hood swoops sideways down over the front fenders, and small flares high over the rear wheels, shape the block. Looks like a dumb box trying to fly.
The high roof is another story, haha. It looks like a giant compressor has pumped the van full of air and stretched its scalp. It looks like it hurts. It attracts attention, people look it over. Sometimes they ask what it is. We got almost as many questions about our high-roof van as we do about hot cars.
The high roof has to hinder acceleration and speed, but we didn't notice it. And it doesn't make the van feel top-heavy, despite the weight up there in the roof with its 10 bowed supports like rollbars, except they're not tubes so they're probably not going to hold up if your NV rolls down a mountainside. We were careful not to pitch it around.
The grille comes off the Titan parts shelf. We prefer the looks of the minimalist S model, for its plain black grille and bumpers. The other models have chrome grilles that look fat. We understand about convenient parts. But a cargo van? Ask your dealer to paint the chrome grille black.
Interior
A cargo van is more than a big empty space with a rubber mat.
The basic Nissan NV S comes with water-repellent seats with wear patches, a sturdy material that looks good in charcoal like ours. There's an AM/FM/CD audio system, intermittent speed-sensitive wipers, wide opening (243 degree) rear cargo doors, no less than 57 integrated reinforced cargo mounting points, six floor-mounted D-rings, and 10 exterior roof rack mounting brackets. The front passenger seat folds flat, with a tray in the seatback. The walls of the cargo van are trimmed with hardboard.
The high roof lifts the ceiling by 22 inches and expands the cargo space by 38 percent, from 234 cubic feet to 324. There's 10 feet of cargo length behind the front seats. But it's more about whether or not you need to stand up inside, for what you plan to do with it. A six-footer can stand up in the back of the high roof NV, with 1.3 inches to spare, room for shoes. Being able to stand up is a great feature to have in the paddock.
We took our NV3500 SV high roof to the track, to an endurance race in the rain, towing our Dan Gurney for President ChumpCar Mustang. It was cold as well as wet, and our space was so comfy that half the pits tried to cram and snuggle inside the tall Nissan. A campfire on the floor would have been nice. Holding a seven-lap lead, the Mustang blew its motor with one hour to go, and the truck was a good place to lick wounds. Great four-speaker sound system, blasting to forget.
We took it to the track a second time, and it gave us more reasons to smile, serving as tow truck/race shop/parts bin/changing room. We didn't sleep in it, but it could be done easy. We can't think of anything it won't do, storage or comfort-wise. We used the giant center console like a small closet, and the giant grab handles at the rear doors every time.
Our NV3500 was a winner at the Portland Rose Cup, towing the legendary Bandit, the historic '82 NASCAR Oldsmobile made famous in the book, "Fast Guys, Rich Guys and Idiots" by Sam Moses. In the Wemme Trophy vintage race, biggest in the Northwest, the NV's car finished second in a field of 47, outrun only by an expertly driven Formula Atlantic car.
Based on the admiration and compliments of other racers as to the versatility and utility of the design, we give the Most Admired Tow Rig award to our dark blue NV3500 with the chrome grille that blinds you in the sun, a dozen times a day at least, at a race.
Our NV had $1235 in options, for rear door windows with privacy glass, floor mats, and mostly the $950 nav/audio system. We used the navigation frequently with satisfaction, a tidy 5-inch touch-screen. There's also satellite radio, am/fm/cd/mp3, USB port, Bluetooth and last but for sure not least, the rearview monitor that shows the tow-hitch ball, aiming perfectly for its spot under the cap on the trailer tongue, nail it every time. It's a godsend when you're used to doing it yourself, getting in and out of the truck three or four times.
Add another $390 for side and roof-mounted airbags, and $460 for the tow package, including extendable outside chrome heated towing mirrors, two front tow hooks, tow mode transmission, Class IV hitch, 7-pin connector, brake controller, and heavy-duty battery.
When you move up from the 1500 S to the NV 2500 S, you get standard lockable center console with 12-volt outlet, storage tray under driver's seat, two more cupholders, power mirrors, rear door storage pocket, and two more cargo lights. When you upgrade to the SV, you get hardboard interior cargo panels, 8-way power driver's seat, power door locks, and sonar system. Our rig had all these features and we appreciated them.
The passenger vans are in another league. They can get plush. They carry 12 people in four rows of two, three, three, and four.