2013 Nissan Pathfinder Introduction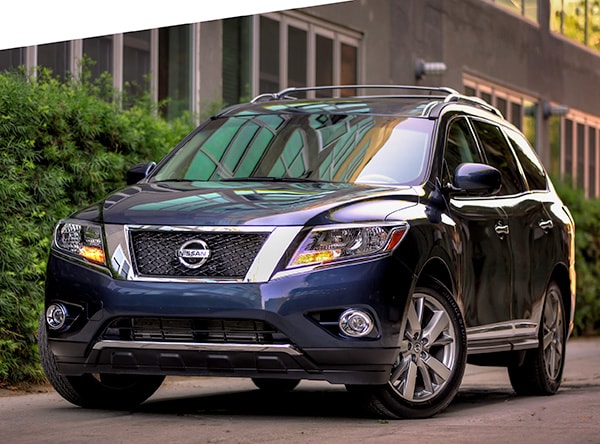 A fixture in Nissan's product lineup for more than 25 years, the fourth generation Pathfinder has evolved from the cheeky adolescent Hardbody of 1986 to the mature parental unit of 2013. It's a maturation process that has entailed several zigs and zags. Like so many of the vehicles that came along in the mid-'80s SUV boom, that first generation was a body-on-frame design based on Nissan's compact pickup truck. The next iteration (1996) was a unitbody (frame rails integrated with the body shell), but Nissan reverted to body-on-frame for generation three (2005).
As a result, the transition to the 2013 Nissan Pathfinder, generation four, is a major course change for this most persistently popular of all Nissan SUVs. The third generation was conceived for the possibility, however remote, of serious off-road use, hence lots of ground clearance and body-on-frame construction, a prescription for enduring the pounding that goes with rugged terrain.
Generation four represents an about-face. Concluding that the large SUV segment is increasingly composed of buyers whose priorities don't include off-road adventure, Nissan has retuned the 2013 Pathfinder around family values: roominess, comfort, and, paramount among today's vehicle attributes, fuel economy.
The result is that the 2013 Nissan Pathfinder is bigger than the gen three Pathfinder, with more room, sharply reduced curb weights, and dramatically improved fuel economy ratings.
Increased dimensions and reduced weight? Yes. That, and much higher chassis rigidity, is the benefit of unitbody construction. At 114.2 inches, the new Pathfinder's wheelbase is 2.0 inches longer than the 2012 model, overall length stretches 4.6 inches to 197.2, and width expands from 72.8 to 77.2. The only dimension that shrinks is height: 69.6 inches, down 2.4, in part because ride height and ground clearance (6.5 inches) is similar to that of an everyday sedan.
This isn't surprising, since the 2013 Pathfinder's architecture based on front-wheel drive is shared with the Nissan Altima sedan and the new Infiniti JX sport-utility. What is surprising is just how much mass has been pared from the Pathfinder in the transition from gen three to gen four: 300 to 500 pounds, depending on trim level and whether the vehicle is equipped with four-wheel drive.
Although Nissan doesn't have a fancy name for it, the design and engineering approach to the weight reduction is pretty much the same as Mazda's Skyactiv Technology. Everything in the new Pathfinder went on a diet. As you'd expect, the biggest weight loss was achieved by the change to unibody construction, about 32 percent, according to Nissan. The new 3.5-liter V6 engine and continuously variable transmission (replacing the previous 4.0-liter V6 and conventional 5-speed automatic) accounted for another chunk, but just about every conceivable element of the car has been trimmed: dashboard, seats, door panels, interior trim elements, you name it.
The sum of the foregoing, plus improved aerodynamics (0.34 coefficient of drag, very good by SUV standards), is EPA fuel economy ratings of 20 mpg City, 26 Highway for front-wheel drive models, 19/25 mpg with all-wheel drive. Nissan claims best in class for the front-drive Highway rating. More significant, the outgoing Nissan was rated for 15/22 with rear drive, 13/18 with four-wheel drive.
The net is a seven-passenger crossover SUV that's stylish, roomy, quiet, and economical by the standards for the mid-size SUV class, a class that includes the Chevrolet Traverse, Ford Explorer, Honda Pilot, Mazda CX-9, and Toyota Highlander.