2013 Nissan Pathfinder Walk Around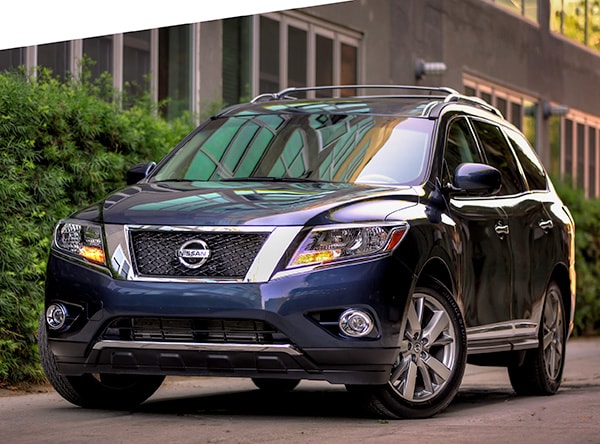 The all-new 2013 Nissan Pathfinder's dimensions have expanded, but it's hard to see at a glance, thanks to smooth styling that's a little more streamlined and a little less utilitarian than the previous generation. The modest fender flares and wide stance suggest muscle, which is an overstatement, but the body has been carefully sculpted for aerodynamics (as noted, 0.34 Cd), as well as suppression of wind noise.
Thin A- and D-pillars, plus a low beltline, give the cabin an airy feeling, and the wide chrome grille is unmistakably Nissan. The optional dual moonroof (power retractable front portion, fixed rear) adds to the wide open feel of the interior, and there's a power sunshade for the rear portion if/when the sun gets a little intense.
Interior
As you'd expect, expanded dimensions pay off in expanded interior volume, specifically eight cubic feet. Nissan claims best in class passenger volume, but probably the biggest beneficiary is the middle row, which offers more leg and elbow room, as well as 5.5 inches of fore-aft adjustability. Nissan also worked to make third row access easier, including times when child seats may be occupying the middle row. Flip the seatback forward, child seat and all, and there's plenty of room to climb into the rearmost seats.
Easy access doesn't make that third row much more habitable, though. Like most it's pretty snug, especially for adult-size people, though reclinable seatbacks help some.
Like all SUVs, the Pathfinder's second- and third-row seats fold flat to expand cargo volume, to almost 80 feet cubic feet. There's 16 cubic feet behind the third row seatbacks and small storage well beneath the floor.
The relaxed-fit front seats are comfortable, with only modest lateral support, though this isn't likely to matter since no one will confuse this vehicle with a sports car and lower bolsters make getting in and out easier. The front seats offer both heating and cooling function, and there's heating for the middle row. Leather is available in upper trim levels, though the basic model's seats are clad in a high grade cloth.
With pricing that crosses the $40,000 threshold, the Pathfinder's inventory includes a broad array of features, an excellent 13-speaker Bose audio, eight-inch center dash color display screen, the Panorama sunroof, a user-friendly navigation system with real-time traffic info, and Nissan's new Around View security camera prominent among them. Unfortunately, all of them are optional: Standard features are minimalistic, particularly in the lower trim levels, S and SV.
Safety features are industry basic: rearview camera, front and front seat-mounted side airbags, curtain airbags covering all three rows, antilock braking, and traction control.
Conspicuous by its absence is the Infiniti JX assist system that alerts the driver to cross traffic or pedestrians during back-up maneuvers, and if the driver ignores the warning will actually stop the vehicle. Nissan provides no really compelling answer for the system's absence in the Pathfinder inventory.
Around View, as noted, costs extra. The system involves four cameras that monitor what's happening in a 360-degree arc around the vehicle. Shared with the Infiniti JX, Nissan characterizes this as an industry first, although both Lexus and Range Rover offer similar systems. But it's definitely a first for this segment, and is likely to save the lives of a good many small dogs, cats, Big Wheels, and Cozy Coupes.
Beyond content issues, the Pathfinder's attractively furnished cabin has an open feel, as noted earlier, even without the big sunroof, thanks to the low beltline. The slender front and rear roof pillars contribute to good driver sightlines, particularly looking forward, and the center stack includes an intelligent mix of buttons and knobs, in contrast to the all-digital touch controls becoming popular elsewhere.