2013 Nissan Sentra Introduction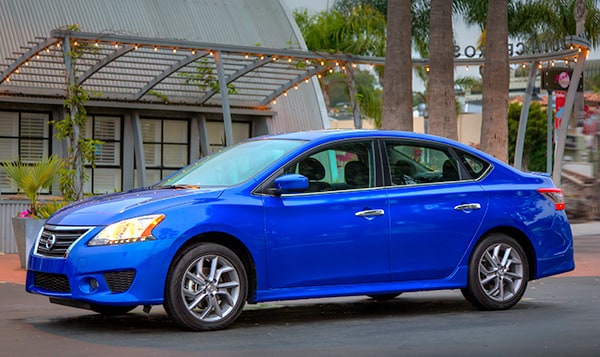 The Nissan Sentra is fully redesigned for 2013. Like many new vehicles in the compact sedan segment, the latest Sentra is lighter and more fuel-efficient than ever before, thanks in part to a smaller engine and a new platform that manages to offer even more interior space.
Styling cues on the new Sentra are shared with the Nissan Altima midsize sedan, also new for 2013. They include LED accents around the headlights and LED taillights. The understated but sophisticated design makes the Sentra one of the best looking compact sedans, which makes it a standout in a class whose best-sellers are about as compelling as a toaster.
As with previous generations, the 2013 Sentra is available as a four-door sedan only; there is no hatchback or coupe. Gone is the old 2.0-liter four-cylinder, replaced across all trim levels by a 1.8-liter inline-4 that makes 130 horsepower, 10 horses less than the outgoing powerplant. All variants also get a new continuously variable transmission (CVT), with a 6-speed manual available on the base S model only. All versions allow drivers to choose from three drive modes: Eco, Normal and Sport, which change the Sentra from thrifty to peppy.
To counter the reduction in power, Nissan managed to strip more than 100 pounds from the newest Sentra. Engineers made it lower and narrower to improve aerodynamics, which also help contribute to better fuel economy. Another fuel-saving trick is the Sentra's new smart alternator, which decouples from the engine and battery during acceleration to minimize power loss (a traditional alternator typically sucks engine power under acceleration to feed the battery).
The result of these updates is an EPA fuel economy rating of 30/39 mpg City/Highway with the CVT, a laudable improvement from the last generation's 27/34 mpg with the old CVT. While the CVT plays a big role in fuel savings, even Sentras equipped with the manual transmission are up to 27/36 mpg, compared to 24/31 mpg previously. An optional fuel economy (FE) package available on entry and mid-level trims adds additional aerodynamics and low-rolling resistance tires for a gain of one mpg on the freeway.
Compact sedans like the Sentra are typically appliance vehicles, practical-minded for commuting and running around town. The Sentra is no exception. There's adequate power for everyday driving, and the interior is attractive, comfortable and spacious. There's a 60/40-split rear seat that folds flat, opening up the trunk space and creating a large flat cargo area that's handy for hauling long items.
Nissan brags that rear legroom in the Sentra is a roomy 37.4 inches. That beats the Honda Civic, Toyota Corolla and Mazda3. However, the Sentra's low roofline takes its toll on rear headroom, which measures at 36.7 inches. That's less than the previously mentioned competitors, but still enough to fit a 6-foot passenger comfortably.
Other notable features on the 2013 Sentra include the optional NissanConnect interface, which, when paired with an Android or Apple smartphone, will read your text messages aloud when driving. The Easy Fill tire system will honk the horn when you've reached your optimal tire pressure at the air pump.
Competitors to the 2013 Nissan Sentra include top-sellers like the Honda Civic and Toyota Corolla, as well as the Chevrolet Cruze, Ford Focus, Hyundai Elantra and Mazda3. When it comes to looks and spaciousness, the Sentra is one of the best. But the price can add up fast. While the base model starts at about $16k, you'll need to shell out closer to $18k for the CVT nicely equipped. For all the bells and whistles, be prepared to fork over $20k or more.
All in all, the 2013 Nissan Sentra's combination of spaciousness, efficiency and good looks make it a solid choice if you're in the market for a compact sedan.