2013 Porsche 911 Summary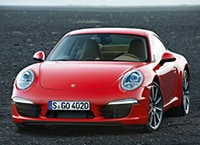 This latest-generation Porsche 911 does everything better than the pre-2012 models. You might find something faster for the price, but it's difficult to find anything that comes close to the pure driving pleasure of this classic sportscar.
Paul Eisenstein filed this report after his test drive of the 911 Carrera S in Southern California. With Laura Burstein reporting from Los Angeles and Mitch McCullough reporting from New York.