2013 Porsche 911 Walk Around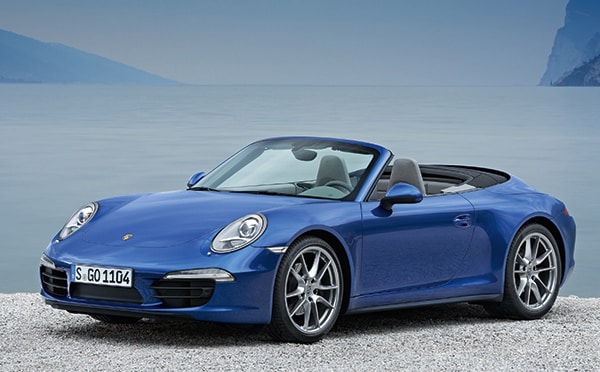 The seventh-generation model looks like a Porsche 911 but there are many changes from pre-2012 models. Compared to the previous generation, the 991 rides on a wheelbase that's stretched four inches, and an the overall length that's increased by two. That tells you right there that overhangs are tighter. The roof is lower and the track is wider. And the wheels are larger in diameter.
The 911's headlamps have a bit more of a three-dimensional look, in keeping with a body that is more sculpted than before. The sheet metal has a more precise and taught feel, with a cabin that has moved ever so slightly forward. The overall appearance is one that is more dynamic, refined yet aggressive.
Most models, even the base 911 Carrera, have an active wing that pops up to add downforce in high-speed turns. It's part of a handling package that can include the Porsche Dynamic Chassis Control (PDCC) active roll stabilization system.
The newest 911 may be bigger, but it's shed a surprising amount of weight thanks to the increased use of aluminum and other lightweight materials. Curb weight totals 3,113 pounds with the PDK (double-clutch) gearbox, about 100 pounds less than the old model. That's no mean feat considering all the other new technologies stuffed inside.
Interior
Sports cars have traditionally put their emphasis on what's under the hood, not in the cabin, but recent generations of the Porsche 911 have focused more attention on the interior, and this latest generation is no exception. It delivers a level of refinement you'd expect from a luxury sedan in a similar price range.
Comfortable 14-way power sports seats are enveloping, and able to keep you in place even during the harshest cornering maneuvers. And unlike some, you can climb in and out with relative ease. Although the 911 employs a classic 2+2 configuration, the back seats are best suited to small children and light packages.
The overall appearance of the interior is one of Teutonic efficiency. The detailing is handsome and elegant but avoids the sort of gold-chain bling you expect from Ferrari and Lamborghini. Ergonomics are improved in this generation, with well-placed controls and easy-to-read gauges, a larger LCD navigation screen and a center console inspired by the four-door Panamera that places key vehicle functions within easy reach. Fortunately, though, the one found in the 911 is smaller and less overloaded with toggles and switches.
The five-circle gauge instrument cluster is well laid out. One of these is a multi-function display that offers up a range of programmable information, including the most immediate navigation instructions or an active g-force meter that instantly shows how hard you're accelerating, braking or turning. At one point, during a run down the test track it nudged an astounding 1.3 g.