2013 Porsche Boxster Summary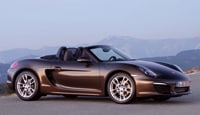 We've always enjoyed driving the Boxster but nonetheless felt it was something of a toy, a wannabe 911 that just didn't quite have enough of the right stuff. For 2013, the new Boxster still has reason to look up to its big brother, the 2012 Porsche 911 having taken some giant leaps forward. But there's no longer reason to make excuses. The 2013 Boxster has, arguably, come even further ahead in its latest iteration. It's a far more classy package than ever before, with the refined details that a luxury buyer would hope to get in a far less competent driving machine. And once you fire up the flat-six and slip into gear you're going to find any excuse possible to keep on driving.
Paul Eisenstein filed this NewCarTestDrive.com report from Detroit after his test drive of the Porsche Boxster.