2013 Porsche Panamera Summary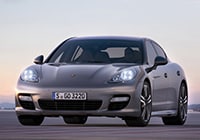 The Porsche Panamera is a viable choice among the big four-door luxury sedans. It can carry four adults in supreme comfort and qualifies as a no-compromise luxury sedan.
New Car Test Drive correspondents Kirk Bell, Mitch McCullough, J.P Vettraino and Laura Burstein contributed to this report.