2013 Scion iQ Driving Impressions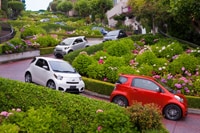 We drove a Scion iQ equipped with navigation, the premium audio system, and TRD suspension elements. The comparatively wider track kept the iQ feeling stable, even at freeway speeds. Acceleration is steady and smooth with the1.3-liter, four-cylinder engine, and had just enough oomph to make it up steep hills laden with two svelte adults. We expect a full load would give the 94-hp car a strenuous workout.
Sharp steering and a tiny turning circle of only 13 feet make for some snappy maneuvers in parking lots and through city streets. We nearly lost our lunch circling a roundabout in our iQ in what turned out to be just a few too many times.
Our biggest complaint about the Scion iQ is the continuously variable transmission (CVT). While good for fuel economy and not as gutless as some incarnations, it robbed the iQ of its potential pep. We'd love to see a manual option in the U.S. in hopes the iQ could emulate any of the famous go-kart handling found in the Mini Cooper. Still, the CVT in the iQ is miles ahead of the angst-inducing sequential gearbox found on the Smart ForTwo, which with every shift simulates the movement of whiplash in uber-slow-motion.
The TRD springs and sway bar on our Scion iQ made the car feel a little more sporty and hunkered down compared to the base model. MacPherson struts up front and a compact torsion beam suspension kept the ride relatively smooth and controlled, but it was rough riding over railroad tracks.
Ventilated disc brakes in front and drums in rear stopped the car without any drama.