2013 Scion iQ Walk Around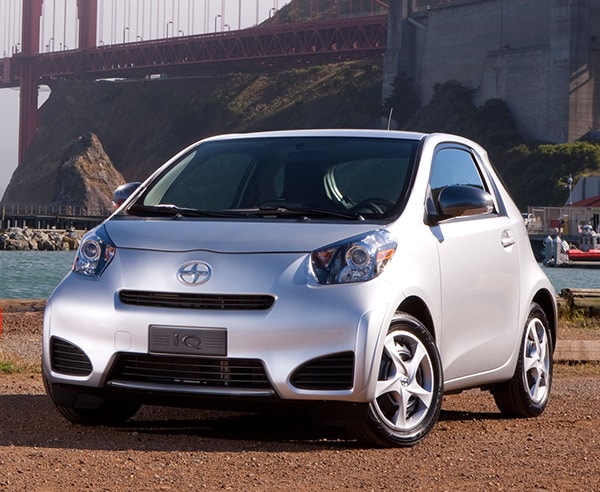 Aggressive-looking for its size, the iQ's styling elicits more respect on the road than a Smart ForTwo hatchback, but lacks the panache of the retro-inspired Fiat 500 or Mini Cooper. The Scion brand skews heavily male, so it's no surprise the iQ's creators favored strong lines and geometric angles over bubbly cuteness.
To make the iQ seem less diminutive, Scion designers took a chance by straying from typical vehicle proportions. Although only 10 feet long, the iQ is unusually wide for a car in its segment.
Interior
One of the biggest challenges in creating the smallest vehicles is designing a cabin spacious enough to accommodate taller drivers without inducing claustrophobia attacks on passengers. But the Scion iQ achieves this with relative ease. The cabin feels surprisingly airy, and Scion tells us the space between the front seats is larger than that of Toyota's Yaris or Corolla models. The front passenger seat is offset with a track that sits farther forward to give the passenger behind better legroom. Scion also ditched a proper glove compartment for a plastic box underneath the passenger seat that slides in and out, albeit flimsily.
Thinner seatbacks eek out a little extra legroom, but they're comfortable enough that you won't miss the extra padding. Rear seats split and fold down 50/50 and offer enough space for a couple of large suitcases.
Total cargo room is rated at 16.7 cubic feet with the rear seats flat.
The instrument cluster, like other Scions, is simple and attractive, with a pleasing and easy-to-read blue lighting scheme. The flat-bottomed steering wheel is substantial and feels good in hand. We liked the wheel-mounted audio controls, but wish there were also a button to access to the Bluetooth hands-free phone feature.
Climate controls consist of three large, vertically placed knobs on the center stack that are easy to see and reach. Audio controls vary depending on what system you choose. On base and premium versions, controls are adequate and are easy to use once you get the hang of what everything does. On systems equipped with the optional navigation, buttons are integrated into the touchscreen display.
Sound quality from the Pioneer audio system is fair, but, since Scion customers tend to be big on customization, we expect music aficionados will roll with aftermarket speakers anyway. An upgraded BeSpoke premium audio system is also available, with a 5.8-inch LCD color touch-screen display and a variety of apps, like Pandora live audio streaming, Twitter, Yelp and traffic information. It's important to note that at the time of this writing, BeSpoke is currently only compatible with iPhone 4 and 4S, not iPhone 5.