2013 Subaru BRZ Walk Around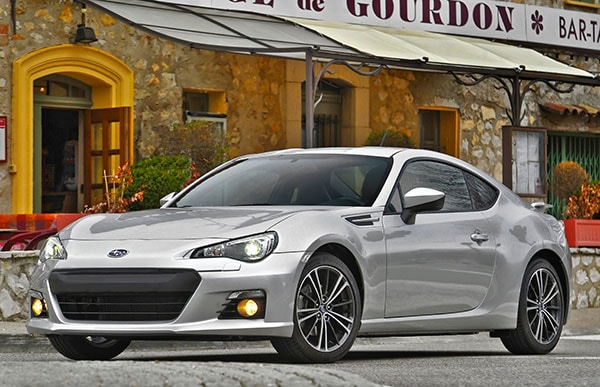 The Subaru BRZ doesn't turn heads, at least not in plain silver like our test model. Scion has a couple colors for the FR-S that Subaru doesn't have, and colors on this car make a big difference. The BRZ looks like everything else and nothing else at the same time, and please don't ask us to explain. If it looks like anything else at all, it might be a cross between the Nissan 370Z and Mazda RX-8.
It's super low, with a roof height of only 50.6 inches, or .8 inches lower than that Porsche Cayman. The coefficient of drag is a sleek 0.29. But where it seems lowest is at the hood, with its 17-inch wheels jammed up inside wheelwells that rise above the hood. You see this especially from the inside, making the nose of the car look square, when viewed through the windshield. Sideview, the car's only distinction is those humps over the fenders. The wheels have many sharp spokes, some black and some alloy.
The nose looks like its designer knocked it out in an afternoon. Not that it's ugly, because it isn't; it's just simple, almost cookie-cutter. Big hexagon mouth, corners trimmed. HID headlamps are sharp triangles pointing toward the grille, like pizza slices smoothed out so they don't look like pizza slices.
The roof has a wide groove, and that adds distinction; it spreads out, so by the time it reaches the top of the rear window, most of the roof is groove. The sideview mirrors are sharpened, which is also neat, but it would be neater if they weren't black on the bottom half. There are some awful gray or black plastic things just forward of the sideview mirrors. Pseudo whats? Granted, they look good from a distance, but when you touch them, the rubbery plastic nearly falls off in your hand. There are plastic pretend air intakes at the corners of the front fascia, surrounding the foglamps on the BRZ Limited, but standing alone and making a statement (this car is cheap) on the (oxymoronic) standard Premium.
There's a Subaru six-star ornament on the nose, so you know what it is. At the tail, the lamps are round red LED lights that look good when they're lit up, with white wings that don't look so good, hiding amber turn signals. Twin tailpipes come out of the black diffuser that has vertical ridges that appear to have been copied from the Batmobile. Between the pipes there's a red triangle reflector that somebody forgot to remove from the European version (where it's a foglight), and a white backup light.
Interior
Maybe spartan isn't the best word to describe the BRZ interior, because spartan implies it's lacking, but spartan is how this car should be, so spartan is just right as far as we're concerned. It's slim. It has all you need, including navigation as standard equipment. It's simple navigation. It works. At least, it works when you use your fingers.
But you can forget the voice command part. Even a Subaru rep couldn't get the nav to get within about 2000 miles of where we wanted to go. You say "Washington" and it hears "Florida." What else is new. In our experience, almost all of them are like that. You say you want pizza and it sends you out for barbecue. Although recently a Chrysler 300 we drove got it right.
We like the rugged fabric seats; they have an appropriate look and feel, not a cut-rate cloth feel. The bolstering is good and tight; maybe too tight, as very broad backs won't fit. The three-spoke steering wheel is leather-wrapped with red stitching, and looks cool. So do the alloy pedals, including the dead pedal that's very functional and great to have in a car like this.
Gauge-wise, there's a big tachometer in the center, with a small shift light on the left side of the dash; not the best place but better than nothing. The speedo to the left isn't very easy to read, but no matter; there's a digital display with your numbers in the middle of the tach, good to go by. Better, in fact. The easy-to-read orange digital display actually makes the speedometer unnecessary.
The standard screen is small, 6.5 inches, but big enough for the space, and its information and images are arranged in a tidy manner. Small buttons, touch screen, easy to reach.
Climate controls are three simple knobs. Two cupholders behind the leather-wrapped shift lever, no center console, decent glovebox, easy door handles and window buttons, good left armrest for cruising on the freeway, although it's low so you end up gripping the steering wheel down at about 7 o'clock. There's good visibility out the rear window, although the center brake light is mounted on little legs that cause it to obstruct a bit in the rearview mirror. Much worse is the big blind spot from the sloping C pillar, when the driver looks over his or her shoulder.
As for the rear seats, we're glad they're there, they're better than none at all. They work for kids. Small kids. The specs say there's 29.9 inches of rear legroom; really? That's more than two feet, sounds like a lot. But with the front seats in a reasonable driving position, we looked back and saw zero inches of rear legroom. If you want a sports car with real room in the back for passengers, get a Mazda RX-8.