2013 Subaru XV Crosstrek Introduction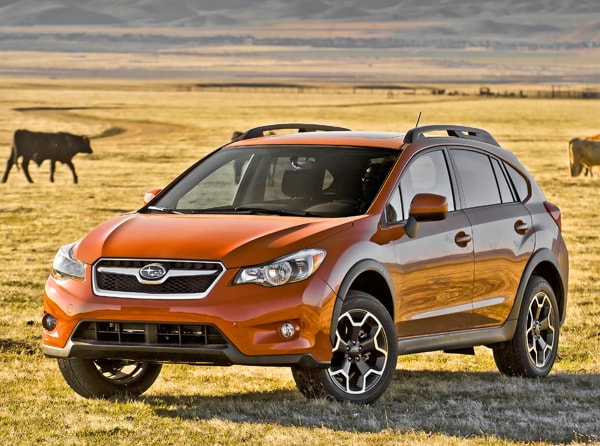 Consider the 2013 Subaru XV Crosstrek a new addition to the Impreza line, in essence the replacement for the Outback Sport. Known as simply XV in world markets, the basic bones and major mechanical components have been in service for more than a year, including the new-for-2012 Impreza.
However, all those basics have been addressed and adjusted to go with the added stature of the Subaru XV. Among the upgraded parts are wheels, tires, brakes and suspension components and geometry. An extra half-liter of engine capacity or another gear for the manual transmission would have been useful, but a bigger engine would have cut into the XV's higher fuel economy ratings and another gear into the price.
Subaru Crosstrek is created by lifting an Impreza by four inches for what amounts to a taller Impreza with more ground clearance. That's enough for the government to label it a truck in the fuel economy standards game, and one reason the name changes. Add some image-enhancing bodywork, wider tires that better fill the wheel wells and roof rails and instant cute-ute crossover.
Apparent changes inside are even smaller, with the standard cloth for the upholstery most obvious. There's good room in front, a decent rear seat with plenty of headroom, and employing the ubiquitous small bikes and golf clubs, room for two mountain bikes behind the front seat and three golf club bags behind the second seat.
The base price includes air conditioning, Bluetooth hands-free and audio streaming, cruise control, power accessories and heated outside mirrors and front seats. You can get navigation and a moonroof. It's not fancy inside nor does it feel like you settled for something. For less than $24,000 MSRP with an automatic the value argument appears sound.
Subaru XV drives like a car, mostly because it is a car. The logic and layout are good, with switches and responses that you expect. It soaks up bumps big and small with only moderate road noise, while freeway treks bring background engine hum. Crosstrek XV is suited to those looking to go further once the highway ends, not to reach the end of the highway first.
Crosstrek gets 5-star ratings in the current NHTSA federal government tests, and the insurance industry's IIHS classifies it a Top Safety Pick. Subaru's reliability is becoming enviable, whether measured or apocryphal, and more owners swear by them than at them.
Subaru XV Crosstrek competes in a crowded, ever-expanding market. Good alternatives include the Mazda CX-5, Honda CR-V, Hyundai Tucson, Kia Sportage, and Toyota RAV4. More sporting performance and road manners can be found in the Volkswagen Tiguan, Nissan Juke and Mini Countryman All4, at added cost, lower fuel economy or less room.