2013 Toyota Avalon Driving Impressions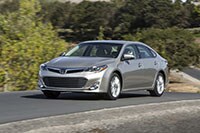 We got our first chance to drive the 2013 Avalon in its various configurations during an advanced drive at Toyota's suburban Detroit test track. The experience revealed the new Avalon to be a significant improvement from the soft and mushy boulevard cruiser that defined prior generations of the Avalon.
Toyota took significant steps to firm things up. Among them: more braces and welds to increase chassis rigidity. A rigid chassis is a key element both for sharp handling response and a smooth ride. This allowed more precise tuning of the suspension. Suspension changes include new stabilizer bars and new spring rates. Toyota used MacPherson struts up front and a multi-link suspension in the rear. Shedding about 100 pounds of mass also helped.
Body roll (lean) has been largely kept under control. Meanwhile, there's virtually no torque steer on this front-driver, even under the most aggressive launches. Torque steer is the tendency of the front wheels to turn under hard acceleration, felt as a tug on the steering wheel; stand on the accelerator, and the new Avalon takes off in a straight line.
The electric power-assisted steering system errs towards a little too much boost, though it tightens up, if artificially, in Sport mode. One disappointment was the decision not to allow the driver to further stiffen the suspension when shifting into Sport mode on the Touring and Limited grades. The electronic system only modifies throttle, steering and gear shifts to improve overall responsiveness. We'd have liked to add still more tautness to the suspension, as well. But kudos for adding Dynamic Rev Management, which is particularly useful with paddle-shift-equipped models (Touring and Limited editions).
At 268 horsepower, the 3.5-liter V6 provides more than adequate, if not neck-snapping, power. It's mated to a 6-speed automatic. That's a couple gears short of other full-size offerings but we doubt many will notice considering that shifts are almost completely transparent and there's little sense of hunting even aggressive driving.
At an EPA-estimated 21/31 mpg City/Highway, or 25 mpg Combined, the 2013 Toyota Avalon provides a significant improvement for what you might have imagined getting from a full-side sedan just a few years ago. Regular 87-octane gasoline is recommended, no Premium fuel required here.
Even more impressive is the first-ever Avalon Hybrid, rated at 40 mpg City, 39 mpg Highway and 40 mpg Combined. Those are numbers you might have longed for with a subcompact when the last-generation Avalon hit market.
The Avalon Hybrid package teams a four-cylinder engine with a pair of electric motors using essentially the same Toyota Synergy Hybrid drive found in the latest version of the Camry. It's about a second-and-a-half slower than the V6 Avalon from 0-60 mph but it still delivers enough power to feel confident passing or getting onto a freeway.
Avalon Hybrid's 2.5-liter inline-4, for the technically minded, uses the fuel-saving Atkinson Cycle and itself develops 156 horsepower and 156 pound-feet of torque. The electric motor brings that up to an even 200 hp. Toyota claims the Avalon can operate on battery power alone. But this is no plug-in. You'll be lucky to get a full mile if the battery is fully charged. While the Avalon Hybrid can technically operate in electric mode at speeds up to 25 mph, that's rare. It'll usually fire the four-cylinder engine up well before then, especially if you've got a heavy throttle foot. A neat trick with the Hybrid is the ability to maintain climate control even when the gas engine is shut off.