2013 Toyota Avalon Walk Around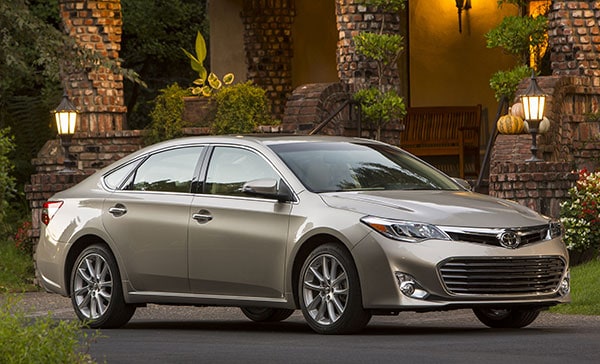 The 2013 Toyota Avalon has a wider, more aggressive stance than the outgoing sedan, there's a sense of kinetic energy that we can't ever recall seeing in a Toyota sedan especially one this big. The overall feel is one of a slightly more compact and taut vehicle, perhaps reflecting the fact that its overall height has been lowered an inch, with the overhangs shortened 0.6 inches up front and 1.8 inches in the rear.
Nowhere is the new look more obvious than up front, where the Avalon's new face bears more than a subtle similarity to the latest-generation Ford Fusion, itself strongly influenced by ultra-luxury sports car maker Aston Martin. That Ford/Aston trapezoid grille is framed, at top by wraparound Quadrabeam projector headlamps, below by distinctive new foglamps.
This is the fourth generation of the Avalon. The soft, almost flabby look of the outgoing model (pre-2013) has been replaced by a tautly sculpted body, character lines stretching through the hood and from just behind the front wheels to the tips of the taillights. Toyota designers worked in half-windows at the back of the sloping roof to give rear seat passengers and even broader view of the world passing by. That underscores the way Toyota has attempted to make form and function equal partners in the new Avalon.
Interior
With some coupe-like sedans, there's a distinct trade-off in functionality, but the 2013 Avalon's 111-inch wheelbase allowed designers to sculpt a curvaceous exterior and still provide a surprising amount of head, leg, hip and elbow room, front and back. Headroom in the front seats is 38.5 inches, or 37.6 inches with the optional moonroof.
And there's little excuse for rear seat passengers not to stretch out and relax.
Front and back, the 2013 Toyota Avalon is a far more lavishly outfitted sedan than the model it replaces. With one notable exception, Toyota has largely abandoned the cheap plastic panels that have drawn criticism in other recent models, including the latest generation of the Camry.
We're tempted to describe the layout from the pilot's perspective as almost cockpit-like. Toyota designers and engineers have worked well together to bring all that the driver might need to see or touch into just the right position, including that large touchscreen used for the EnTune infotainment system. As you'd expect, it is the anchor of basic systems like navigation, audio and Bluetooth calling. It also allows ready access to smartphone-based apps such as Pandora, Bing, iHeartRadio, and services like fuel pricing, stock reports, traffic and weather data. Meanwhile, a second, capacitive-touch screen operating the climate control system. But you don't have to mess with all that. The navigation system is optional and can be avoided altogether. If you don't opt for navigation, the screen remains, for operating the radio and other features. Nighttime or daytime, the screen delivers a big, crisp image of what's behind you whenever you shift into Reverse.
The Avalon adopts the sort of elegant and subtle ambient lighting cues we've until recently expected only on mid to upper-range luxury vehicles. And that carefully stitched leather further adds to upscale feel. We think Toyota could have done a better job with the wood trim, however, which looks too much like plastic.
Cargo capacity is good: 16 cubic feet of trunk space, 14.4 cubic feet for Avalon Hybrid models. Folding down the back seats provides more cargo space and room for longer items.