2013 Toyota Camry Summary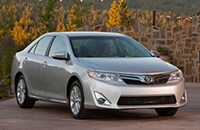 The 2013 Toyota Camry is a superb midsize sedan, with the latest chassis engineering and sleek styling. Camry powertrains are so different you should consider your needs or drive them all before you choose. The four-cylinder engine is exceptional, with good smooth response and excellent fuel economy. The 6-speed automatic transmission is smooth. The suspension is comfortable and the interior clean and convenient. Upper level models with infotainment options move the Camry upscale. Camry SE has a firmer ride and sharper steering response. Camry Hybrid keeps emissions low but doesn't offer the responsiveness of the four-cylinder and V6 models.
Sam Moses filed this NewCarTestDrive.com report from the Columbia River Gorge.