2013 Toyota Prius c Walk Around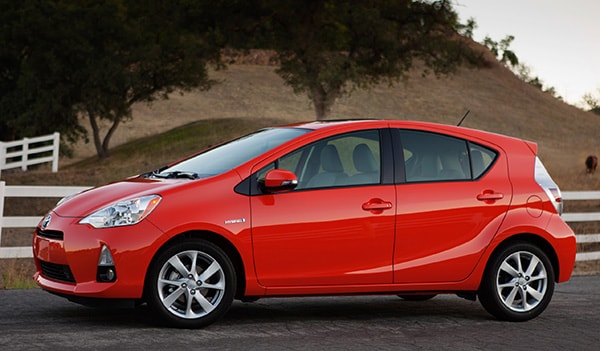 A conventional hatchback shape defines the Prius c. After all, there are only so many ways to get a hood, four doors and an upright rear end into a 13-foot-long car. As such, Prius c's silhouette is familiar and generally lacks distinction. Like other cars in this class, many could easily confuse it with three or more competitors were the badges removed.
Across the front a character line curls in from the lower edges, rising over the grilles like a bulldogs's upper lip with the double-ellipse Toyota logo forming a small nose. Pyramid-like outer corners house fog lights on top models and the projector headlamps use a detent on the lower edge to avoid a too-often seen plain triangle.
In profile the front door is the largest single aspect and the relationship between door cutouts and roofline is the dominant feature. Prius c mixes the door shape of the regular Prius and its high point at the middle pillar, with a taller roofline reminiscent of the Prius v to better meld into the hatchback tail. That pinched rear door corner might be an issue but taller individuals will be exercising care entering anyway.
Every model of the c we examined has signal repeaters in the outside mirrors, a plus in tight spaces or where sunlight might obscure the front signal. These are mounted on the lower outer edge and are the widest point of the car, but they cannot be seen from the driver's seat; be mindful trying to navigate a drive-up window or narrow opening between garage pillars and other cars.
At the rear the bodywork above the mid-section angles rearward, surrounding a large shiny section covered in clear plastic with one big red reflector on it. From some angles and certain colors the body looks like it leans backward a la Renault Megane, and the arches that carry over the wheels and around the rear resemble a bustle back or Harley cruiser fender. It is at once the most distinctive element and the most awkward.
The rear lights employ LED for brake lights, conventional bulbs for taillights, and amber bulbs behind a clear lens for signals. With circles and triangles and parallelograms in the various elements there's no theme but the brake lights do garner better reaction from inattentive drivers behind.
The Prius c Three may be optioned with alloy wheels that resist rusting and look better than the standard steel wheels. The 16-inch wheels optional on Prius c Four improve looks and handling at the expense of a slight decrease in mileage (though not enough to affect EPA ratings) and less steering lock.
Cargo access is straightforward and a temporary-use spare is under the floor. Any flat tire will go in the well but the cargo floor won't be flat.
Interior
The Prius c cabin is a little more interesting than the exterior, though we wouldn't call it daring. There's no ground-breaking news here, just some unusual design, styles and level of standard features.
Front seats are roomy and offer enough headroom for adults measuring six feet and even taller. Comfort was fine, as we drove the car for hour-long stints with no complaints or sore spots. Fabric upholstery is never too hot or cold to sit on, and on most models the driver's seat adjusts for height. Note, however, that no model has adjustable height shoulder belt anchors and a tall passenger was not comfortable with the belt across their upper arm.
It can be tough to fit three adults across the back, so it's best to limit backseat passengers to two adults or three kids. Lanky testers were also able to fit in back, even with the optional sunroof, and carrying four simultaneously results in some tight knee space. The seat cushion is unusually long because of the batteries beneath it, which improves comfort for adults but might be uncomfortable for kids who can't hang their legs off the front of it. The rear seat folds to increase cargo area, and on any but the base model, it has a 60/40 split for flexibility.
Materials are mostly plastic with a few padded soft-touch panels, all expected in this class. Initially the styling lines on the dashboard looked like scratches, though they do mirror some of the lines in the optional SofTex upholstery that weighs about half what traditional leather weighs. That alone should tell you how important weight reduction was in this car.
A tilt and telescoping steering wheel with redundant controls faces the driver, though the range of the telescope function is so short we wonder why they bothered. Ahead of the wheel is a depression for pens and such with a ramp backwards to ease scooping things out that also makes them eject automatically accelerating up a hill.
The floor-mounted shifter is conventional, with PRNDB settings; all do what you expect and B is for battery (see Driving Impressions). Eco and EV mode switches are adjacent the handbrake aft of the shift lever.
Instrumentation is in a narrow display from the top of the wheel to the right edge of the center vents. It has a digital speedometer, fuel level, a couple of indicator lights and nothing else. To the right is the multi-information display that provides fuel and energy data in numerous ways, and on upper trims, momentarily overlays which steering wheel button has been pressed.
Below the display are the center vents, the radio or navigation screens, and below that in the lateral teardrop, climate controls. Upper trims have the Start/Stop pushbutton left of this, while lower levels have a molded circle that very obviously shows this model is missing something. A power point hides below the climate panel, and the USB/aux inputs are to the right adjacent a tray above the glovebox. This is easy to reach but means you can't leave things plugged in and concealed, and the test cars showed the limitations of the shallow tray because all the smartphones were kept from flying off the shelf by hook-and-loop fasteners. The glovebox is fairly deep.
Bluetooth and steering wheel controls for it are standard on every Prius c, while the top two models get Entune, Toyota's telematics system. Entune comes with Bing, Pandora, stocks, sports, traffic, and weather, and will add iHeartRadio, MovieTickets.com and OpenTable. The audio system that goes with navi/Entune cars also includes XM Radio, HD Radio with iTunes tagging, iPod connectivity and control and Bluetooth wireless streaming. Entune services access is complimentary for three years, much longer than most similar services. Note you may not be able to operate everything while underway.
With its low-profile dashboard and narrow windshield pillars Prius c is open, airy and easy to see out of. Only the outer rear headrests are full-size, so rearward visibility is good as well.
The Prius c has an unusual airbag arrangement. Front, front-side and side-curtains for front and back are typical, but there's also a driver's knee airbag and front seat cushion airbags that ensure occupants are best positioned for the front and side airbags to work. Rear seat side airbags are not available, and in most cases shouldn't be used with youngsters anyway.