2013 Toyota Prius v Driving Impressions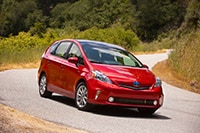 Performance is lacking in the Prius v, in part due to its weight. It's 230 pounds heavier than the original Prius liftback, which makes a big difference in a car with only 134 horsepower.
EPA mileage for Prius v is 44/40 mpg City/Highway for a Combined 42 mpg, or 8 mpg less than the Prius liftback. We got less than that during our five-hour drive, an average of 38.4 mpg, not doing any leadfooting, and keeping it in the Normal driving mode. In order to perk up the acceleration, the rear-end ratio was changed from 3.27 in the sedan to 3.71 in the v, and that doesn't help fuel mileage because the wheels and engine turn more revolutions. Curiously, when we tested the Prius sedan we got a few miles higher than the EPA estimate; with the v we got a few less. Same driver.
In addition to Normal mode, there are three selectable modes: EV, or all-electric, with a very limited distance at 25 mph or less (if there's enough juice in the battery), most useful for underground parking garages; ECO, which minimizes fuel consumption by reducing the throttle opening and restricting the air conditioning; and Power for full acceleration. It automatically switches from ECO to Power when you step on the gas enough to need it. It needs it a lot.
The v uses the same CVT transaxle as the sedan. It's functional enough, but sure is boring. When you accelerate hard and the engine kicks into Power mode, it can be abrupt, like a transmission kick-down, as the CVT also winds up. But driving more casually, you're not aware the CVT is there, which is how they're supposed to work.
The v handles and corners well, much like the Lexus CT200H. It's easier to drive around town than the sedan, with this nimbleness and especially its good visibility. The front suspension components have been upgraded, and there are different front strut mounts.
Unfortunately, the ride doesn't match the handling. The damping feels quite firm, so you can feel every bump, and it's soon irritating. We found the same flaws in the Prius sedan: road noise and rough ride. It seems to be a Prius thing.
There's also electronic Pitch and Bounce control, intending to prevent that up-and-down porpoising motion. We found a short stretch on the road that might cause a car to porpoise, and the Prius v porpoised, a little bit. Who knows, maybe it would have been more without the electronic pitch control.
We already mentioned the engine buzz, but we mention it again here because it's so prominent under full throttle. Our notes say the engine sounds unsophisticated. As original and needed as the Prius v might be, when you have a nearly $30,000 car that's slow and loud, you have to wonder if it's worth it.