2013 Toyota Prius Introduction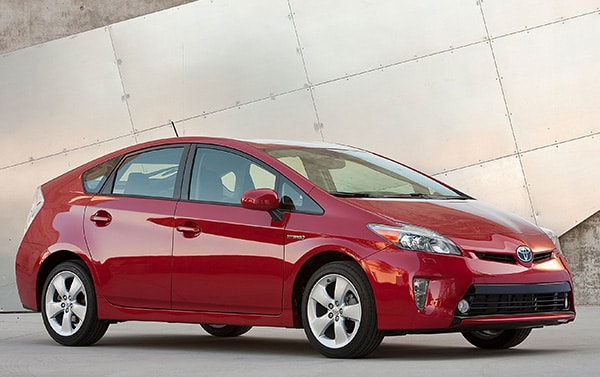 Still one of the most popular hybrid vehicles on the market, the Toyota Prius comes in Prius Liftback hybrid and Prius Plug-in Hybrid versions.
Both the Liftback and the Plug-in use Toyota's Hybrid Synergy Drive powertrain, which pairs a 1.8-liter gasoline engine along with an electric motor. The regular Prius Liftback uses nickel metal hydride (NiMH) batteries and operates like a traditional hybrid.
The Prius Plug-in Hybrid employs newly developed lithium ion (Li-ion) batteries and can be plugged in like an electric car to extend its range. The Prius Plug-in Hybrid will allow true electric-vehicle operation for up to 15 miles at speeds up to 62 mph, according to Toyota, along with quick home charging using a standard AC outlet and 15-amp dedicated circuit. The Plug-in Hybrid comes with an easy-to-use external charging cable, but you'll want an electrician to set up a dedicated fast-charger for the quickest charge times.
Fuel economy is the number one reason to buy a Prius. The Prius Liftback gets an EPA-rated 51/48 mpg City/Highway, and a combined rating of 50 mpg. It runs on Regular gasoline.
The Prius Plug-in Hybrid is rated 51/49 mpg City/Highway, or 50 mpg Combined. Because it also runs on electricity, the Environmental Protection Agency gives it a special rating of 95 miles per gallon equivalent (MPGe). Fuel cost estimates for the plug-in hybrid are about $1,000 a year for the Prius Plug-In, compared to $1,150 for the traditional Prius hybrid.
Now in its third generation, more than 1 million units of the Prius hybrid have been sold in the United States since the first debuted in 2000 as a 2001 model. The Prius was redesigned for 2010, and the plug-in hybrid debuted for the 2012 model year.
New for 2013 is the Prius Persona Series Special Edition. It is available with the traditional Prius Liftback hybrid powertrain and comes with unique charcoal and black SofTex synthetic leather upholstery with red stitching, dark chrome interior accents and 17-inch alloy wheels.
While fuel economy is remarkable, acceleration performance from the Prius is far from it: 0 to 60 mph in an excruciating 9.8 seconds. On the bright side, the continuously variable transmission (CVT), is smooth, a quality not always found in this type of transmission.
Prius comes loaded with technology. The Touch Tracer Display projects information before your eyes, so you can keep them on the road. A solar-powered ventilation system is available, with remote pre-cooling to cool the car down to ambient temperature before you climb in on a hot day. Other features include lane departure warning, radar cruise control and Intelligent Parking Assist, which will automatically parallel park the vehicle.
The Prius is capable of seating five, but the ride will be most comfortable with only four. Front seats are roomy, though some may find the upright seating position a bit uncomfortable. In the back, there's am adequate 36 inches of legroom. The EPA classifies these cars as midsize, but we see them as large compacts.
Cargo space is generous with nearly 40 cubic feet of capacity when the back seats are dropped flat, and the big liftgate makes loading easy.
While the Prius used to dominate the hybrid market, other alternative fuel vehicles have sprung up in recent years to give Toyota's darling a run for its money. The new Ford C-Max, available as both a hybrid and a plug-in, boasts a fresher design and sharper driving dynamics. The Chevrolet Volt plug-in feels more sophisticated and more upscale than the Prius does. Shoppers might also consider the sleek Ford Fusion hybrid and plug-in sedans, as well as the Toyota Camry hybrid. Note: Prius c and Prius v are reviewed separately.