2013 Toyota Sienna Summary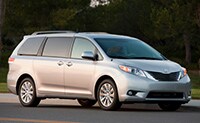 The Toyota Sienna sets the standard for minivans. Sienna benefits from sharp, handsome styling that borrows design cues from SUVs and sedans. The Sienna SE is the most carlike in its handling, but all Sienna models are appealing in their own way, and versatility may in fact be the Sienna's greatest virtue. Whether hauling the soccer team or materials from the home-improvement store or driving cross-country, there's a Sienna for every purpose.
John Stewart filed this report to NewCarTestDrive.com. Additional material by John F. Katz.