2013 Toyota Venza Driving Impressions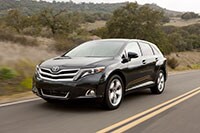 On the road, the Toyota Venza feels like a car, and not much like a truck. In ordinary driving it rides smoothly and quietly, just like a car, steers easily, and seems as quiet as a Camry. We drove smoothly from place to place, wipers and headlights on in the rain, observing speed limits between 35 and 55 mph, with minimal need to concentrate. At those speeds, cornering was achieved with minimal body roll (lean), and steering was light and accurate. The Venza sits higher off the ground than a Camry, so there is a bit more body lean in the corners, but suspension travel is more like a car than an SUV, so the Venza transitions from side to side cleanly and easily.
We were impressed with the stability of the Venza on steep, curving roads covered with wet leaves. We never felt a wiggle in these slippery conditions, under throttle or braking, all day long. As the day wore on, we tried out both four-cylinder and V6 models, and all-wheel-drive and front-wheel-drive versions, and drove the now-familiar roads harder, occasionally hitting speeds up to 70 mph. We still never got into the traction control, or the anti-lock brakes, which speaks well for the tires and the wide stance of the Venza.
The brakes respond to pressure with a nice, easy-to-control mix of pedal assist and firm feedback.
The Venza is not designed to be an off-road vehicle, although it does have 8.1 inches of ground clearance, comparable to compact SUVs. The all-wheel-drive system (also used on the RAV4) can bias torque equally on a 50/50 basis, front to rear. With that kind of flexibility, the AWD Venza has the capability to be an especially sure-footed, all-weather transport, and that includes snow.