2013 Volkswagen Jetta Introduction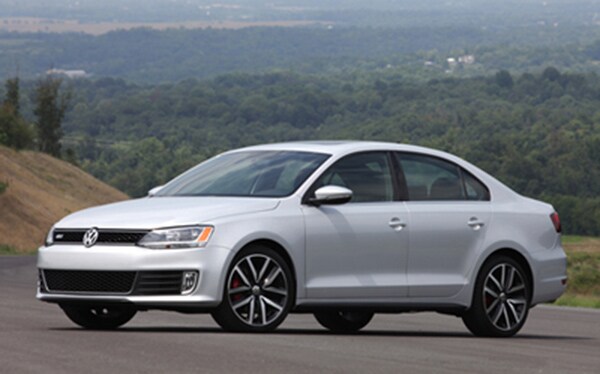 Volkswagen Jetta comes in a range of models with a choice of engines. Among them is a new Jetta Hybrid model that joins the 2013 Jetta lineup. The Volkswagen Jetta competes with compact cars such as the Ford Focus, Chevrolet Cruze and Honda Civic.
The Jetta sedan was redesigned for 2011 using less sophisticated technologies and lower-cost interior materials, with a lower price, a package with a great deal of value because the Jetta solidity and quality was still there. For 2012, the sporty turbocharged Jetta GLI reclaimed some of the lost content.
The Jetta TDI Sportwagen, with its turbo-diesel direct-injection engine (and especially its DSG twin-clutch automanual transmission), has gotten rave reviews for its performance and fuel mileage, 40-plus miles per gallon. Jetta Sportwagen rides on the previous-generation Jetta platform and has a more sophisticated suspension.
The base sedan model is the Jetta S, which uses a single-overhead-cam 2.0-liter four-cylinder engine making 115 horsepower. That engine is an old but solid design.
Jetta SE brings a 2.5-liter five-cylinder engine that makes more power, 170 horsepower and 177 pound-feet of torque, while getting almost the same fuel mileage. The five-cylinder, 20-valve 2.5-liter engine is a Volkswagen stalwart, with good power. It's capable of propelling the Jetta SE from zero to 60 mph in 8.5 seconds with the 6-speed automatic, and powers Jetta to a top speed of 127 mph. It's EPA-rated at a Combined 26 mpg, about what we got over nearly 500 miles of driving in a Jetta SEL automatic and SEL manual. We prefer the very good automatic.
Most models offer a choice of 5-speed manual or 6-speed automatic transmission. We found the sport mode for the 6-speed automatic sharp and effective. We used it in city driving, where it responded crisply on San Francisco's hills, and in slow-and-go freeway traffic, where it kept the transmission in third gear rather than upshifting and downshifting all the time. Manual mode can be used for spirited driving, shifting at the lever. It's programmed well, responsive and obedient.
Jetta Hybrid boasts an EPA-estimated 42/48 mpg City/Highway, 45 mpg Combined. We drove a Jetta Hybrid for one week, covering 340 miles, half city and half freeway, and we only got 35 mpg. Jetta Hybrid demands Premium gasoline, while the 2.5-liter five-cylinder on Jetta SE and SEL demands only less-expensive Regular.
The Jetta TDI Sedan and Sportwagen use the latest turbo-diesel direct-injection technology in their engine, making 140 horsepower and 236 pound-feet of torque, while getting an EPA-rated 30/42 mpg City/Highway.
To keep the price down, Volkswagen uses an old-school rear torsion beam suspension in Jetta S and SE models; the ride is firm, but most owners won't miss a multi-link suspension. The build quality is impressive. The Jetta is quiet at speed and feels solid. Rear disc brakes have been added to these models for 2013, after gripes that the drum brakes on 2011 and 2012 models were archaic.
Jetta shoppers might notice that the interior materials on the base S model aren't of the highest quality; it's not that the materials are cheap, just less rich than they were a few years ago. There are hard plastics that can creak and rattle over the years. But the trim is tasteful, and the standard cloth seats fit well, while the optional V-Tex leatherette upholstery passes easily for real leather. The trim in the SE has been upgraded for 2013.
Jetta Sedan's interior is clean, stylish and comfortable, while being smart, accommodating and functional. There's good headroom front and rear. Rear-seat legroom is first in class at 38.1 inches, nearly as much as a BMW 7 Series. VW makes smart use of cupholders and little storage cubbies. The instruments are handsome, with clean white-on-black numbering.
Jetta GLI brings back all the interior quality. The dashboard is made of a soft-touch material, and there is accent stitching on the shifter, seats and steering wheel. The GLI features a 200-horsepower 2.0-liter turbo engine, accelerating from zero to 60 in 6.8 seconds using the magical DSG twin-clutch automated manual transmission. It offers a relaxed, refined sportiness that makes it the most satisfying Jetta to drive.
The Sportwagen has a nicer interior and multi-link independent rear suspension. With a shorter wheelbase, it has less rear legroom, but with the cargo room of an SUV and the popular TDI option, the Jetta Sportwagen can be a great alternative to a crossover or SUV while offering outstanding fuel economy.