2013 Volvo XC90 Introduction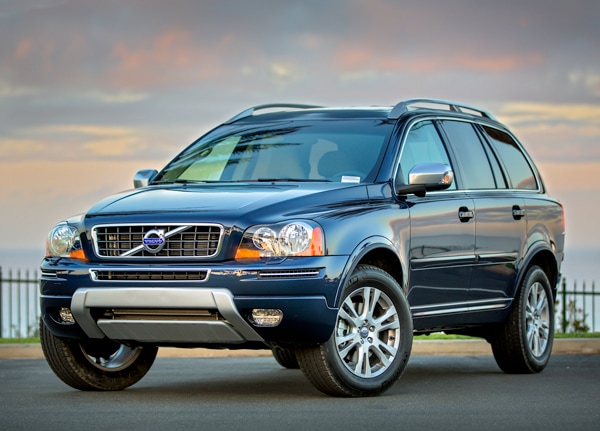 The Volvo XC90 gets fresh styling and a revised interior for the 2013 model year, the most significant updates since the seven-passenger SUV was launched as a 2003 model. The XC90's appearance was freshened for 2007 and the sporty R-Design models joined the lineup for 2009.
A fully color-coordinated exterior makes the 2013 XC90 look sleeker and lower to the ground. Updated design cues include new body-color bumpers, sill moldings and wheel arches. LED daytime running lights and taillights come standard. The 2013 XC90 3.2 receives a new silver front bumper bar, chrome taillight trim, silk matte mirrors, and 18-inch Thalia alloy wheels.
The 2013 Volvo XC90 3.2 cabin gets new luxury accents including sanded silver aluminum inlays, white instrumentation lighting and a leather strap on the tailgate. As before, the XC90 comes standard with leather upholstery, a power glass sunroof, rear park assist and third-row climate control. An integrated center booster cushion adds versatility to the second-row seat and eliminates the challenges associated with installing a separate child seat. All 2013 XC90 models gain rain sensor windshield wipers and headlight washers.
2013 XC90 Premier Plus and Platinum trim levels are swathed in Sovereign hide soft leather seating surfaces and red wood inlays. A red wood steering wheel is available for 2013 XC90 Premier Plus and Platinum trim levels.
The 2013 XC90 R-Design features a fully color-coordinated exterior plus LED daytime running lights and taillights. New 19-inch Ixion alloy wheels amplify its sporting appeal. The R-Design continues to feature a sport-tuned suspension and steering for an enhanced driving character, plus a unique R-Design grille, leather seating surfaces with embossed R-Design logo on the front seats, an R-Design steering wheel, watch dial instruments and floor mats.
The Volvo XC90 is available only with a 3.2-liter inline six-cylinder. (A V8 engine is no longer an option.) The 2012 Volvo XC90's six-cylinder engine makes 240 horsepower and 236 pound-feet of torque and is mated to a 6-speed automatic transmission with manual shift control. EPA fuel economy estimates for the 2012 Volvo XC90 are 16/22 mpg City/Highway, or 19 mpg Combined for front-wheel drive models, 18 mpg Combined for all-wheel drive.
We found the XC90 rides comfortably, handles well and is easy to park. It boasts more cargo space than many of its competitors. Its tow rating of 3,970 pounds is enough to haul light boat trailers, personal watercraft and snowmobiles but not cars and horses.
The optional all-wheel drive works smoothly, without penalty in fuel economy, and it's truly welcome when the weather gets foul. Buyers who don't need all-wheel drive can choose an XC90 with front-wheel drive.
Competitors to the Volvo XC90 include the Acura MDX, Lexus RX 350 and the Volkswagen Touareg. Good value alternatives include the Buick Enclave, Ford Flex and Hyundai Santa Fe. Volvo buyers might also consider the XC70, which features a more contemporary design in a slightly smaller, sportier package.