2014 Acura MDX Walk Around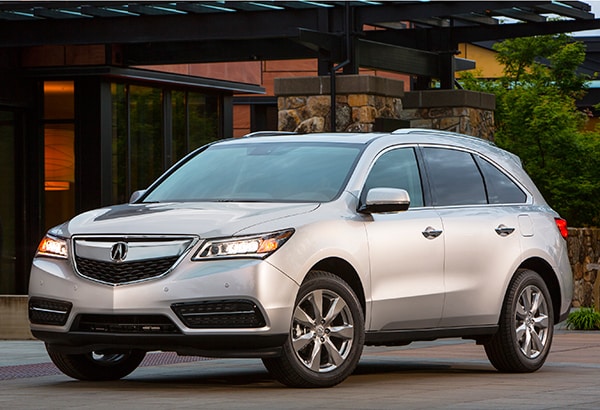 Acura MDX was completed redesigned for the 2014 model year. The overhang in front has been reduced by less than one inch, but the new nose looks stubby, in an attractive way. We wish there were less chrome in the grille, but that big silver subtle-vee band is the Acura cache, and anyhow we wish there were less chrome in every grille.
The front fascia openings under the grille are tidy, and the LED headlamps, five bulbs in each, are sleekly designed. Acura calls them Jewel Eyes. They are super bright. Not quite like daylight as Acura suggests, but way excellent, extending the beam by 75 feet and safety by a lot.
The nose has been carved between the grille, to slope down from each side to the bumper. It works well, to give definition to the bumper, which on so many cars is flat and ugly for being shapeless. (When we say bumper, we really mean the body plastic that hides the steel bumper underneath.)
The sides don't have any fancy styling, and the rear looks like any other SUV, with a small spoiler on the roof. Since so few designs actually score when they try to make distinctive sides and rear ends on SUV styles, we say nondescript might be just fine.
Interior
The soft interior materials are of a high quality all around, as should be expected in any car with this price. They've always been good with Acura. Premium Milano leather is standard for the first two rows, while satin and simulated wood-grain trim accents the cabin. The steering wheel is stitched leather.
The instrumentation is well laid out, and the display screen is shaded and easy to read. The gauges are beautifully backlit with LED lighting, while LED lamps with programmable brightness are used on the center console and front foot wells.
One major change and improvement for 2014 is the center stack, now with 9 buttons where there used to be 41. The layout saves significant space, now used for storage forward of the shift lever.
Center console storage space has more than doubled in size, thanks to repackaging of the HVAC system; it's under a sliding leather armrest. It can easily hold a purse and tablet computer, maybe both. Big SUVs and pickup trucks have center consoles like this, but not many luxury crossovers.
Front seats are on the roomy side, we'd prefer more bolstering, especially with a car that boasts Super Handling. And the A-pillar gets in the way of forward and downward visibility.
All three rows of seats are more than one inch lower, which not only improves ingress and egress, but reduces body roll. Except in the case of the driver, you'll want to crank the seat up so it gives that command-of-the-road position of a big SUV.
The longer wheelbase and more compact rear suspension allow for entry to the rear seats that's 4.5 inches wider, and 1.8 inches lower at step-in when compared with pre-2014 MDX models. It's a relative delight to get in and out. The second-row seatbacks have five reclining positions, and six inches of travel to make maximum legroom; snooze time on road trips.
The second row flops down with a touch of one button located in three places, so it couldn't be much easier to reach the third row. Acura calls it One-Touch-Walk-In, and it is.
Cargo space is vast, 90.0 cubic feet, with both rows folded easily flat. And with them up, there's a lot more room than before, 2 inches more floor space and 6 inches more at the top of the seatback, yielding 15.8 cubic feet, a good-sized sedan trunk. There's a cargo lid with room for things you might want to hide, and it flops open 180 degrees with the third row seat folded, to provide maximum utility.
The cabin is quieter than ever, thanks to more foam in the roof pillars and new insulating materials under and behind the second and third rows, and a new seal at the rear door sills. All the glass is acoustic, a sandwich of tempered glass around sound insulation. The engine is so silky anyhow, you know you're in a luxury car when you're in the back seat of the MDX.
Now for the hard part. Working the electronics. Radio: fail. We couldn't tune it decently, and neither could the other journalist with us. Voice command: fail, like them all. The Acura lady can't even begin to understand plain English. We tried and tried, didn't do anything wrong, and not one time did she get it right. It was only after that, that we resorted to name-calling, knowing of course that that never works.