2014 Audi A5 Introduction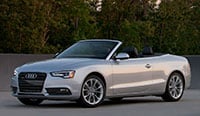 Restyling for 2013 made the Audi A5 and S5 a leaner, sleeker and more muscular look, led by a new nose. On the performance front, a 3.0-liter supercharged V6 bumped the precious 4.2-liter V8 out of the S5 coupe and cabriolet. With that V6, the Audi S5 accelerates as quickly as the prior V8 version and gets better fuel mileage. Meanwhile, the V8 stayed on top of the performance pile, bumping itself to 450 horsepower for use in the 2013 Audi RS5 coupe. After introducing the ultra-performance RS5 coupe for 2013, a cabriolet edition of the RS5 arrives for the 2014 season.
Audi A5 and S5 coupe and cabriolet were enhanced for the 2014 model year. Horsepower of the standard 2.0-liter four-cylinder engine has been raised from 211 to 220 hp. A Convenience package, now standard on all A5 models, includes the Audi music interface, HomeLink, Bluetooth connectivity, and a driver information system.
Audi drive select now is optional for the A5 (included in the Sport package), and standard on S5 and RS5 models. Layered aluminum/black wood inlays are available for S5 models, while S5 coupes can now be fitted with a Comfort package.
Audi side assist, which monitors blind-spot areas as well as rapidly approaching vehicles to the rear, now is offered as a standalone option for A5/S5 Premium Plus models, which gain an advanced key as standard equipment. An S line Competition package (introduced late in the 2013 model year) is offered on Premium Plus and Prestige A5 coupes. That package includes a sport suspension, 19-inch segment spoke wheels with titanium finish, brilliant black exterior moldings, and a black rear diffuser. Inside the A5 when equipped with a Competition package is a three-spoke flat-bottom steering wheel, piano black inlays, leather/Alcantara sport seats, aluminum door sills, and an aluminum manual-shift knob.
A5 Prestige models now have standard S line exterior details. All models may now be equipped with a Black Optic package, which features a Black Optic grille and Singleframe surround; coupes with that option also get a gloss-black window surround.
Audi has the engine line down pat. The 2014 Audi A5 comes with the venerable and silky 2.0-liter turbocharged engine, which has long been the king of four-cylinder engines, now tweaked to yield 220 horsepower. While the 240-horsepower BMW, 240-horsepower Ford, and 274-horsepower Hyundai (all 2.0-liter turbo fours) have been letting Audi know that its reign is over, Audi's 2.0 is still a great base engine for the A5.
Audi quattro all-wheel drive remains at the top of its class, adept and experienced in snow, mud and wet or icy streets. It seems a shame to buy an Audi with front-wheel drive and miss out on quattro.
It's hard to find a direct statistical competitor to the four-seat A5 or S5, considered a grand touring coupe or cabriolet. The Infiniti G37 Coupe is similar, but beyond that you'll find differences in the number of doors or seats. The Mercedes C-Class or BMW 3 Series coupe or convertible with all-wheel drive (both with five seats) might be cross-shopped, or the Nissan Maxima (four seats, four doors). We'd say the Mercedes C250, if similarly equipped, most closely compares to the Audi A5 in size, powertrain and price.
Kelley Blue Book named Audi A5 best resale value in the luxury class.
An A5 is subtly beautiful. Its clean contours eliminate the need for stylists to tack on character lines, as with many other cars. We think Audi is better looking than BMW here.
The cabin is sophisticated but simple, and nicely functional. A choice of leather is available, along with different types of wood, carbon fiber, aluminum or stainless steel trim. Without exception, the materials are pleasant. The standard A5 leather seats are excellent: a nice level of firmness and bolstering. However, heated seats, navigation, and a rearview camera are all optional equipment, which means an extra bite on top of the already healthy luxury price.
The instruments are clean and clear, including a trip information display that's easily scrolled through. A big, clear white digital speed number can be displayed there. The leather-wrapped three-spoke steering wheel is tidy, with grips at the right places and thumbwheel controls on each side spoke. It tilts and telescopes for drivers of different sizes and preferences.
At night the cabin is pretty, with deep amber illumination, smoked-lens lamps mounted in the roof, and shaded map lights. However, in direct sunlight, the display screen at the top of the center stack is unreadable, even with its shade. In our Cabriolet with the top down, we couldn't tune the radio because we couldn't read the orange numbers on the screen.
Rear passengers are catered to, with a wide armrest that folds down over central storage trays, reading lights, two speakers per side, coat hooks, outboard storage pockets, cupholders, and a pair of vents with adjustable temperature control. Legroom is in short supply, but better than that of the Infiniti G Coupe.
Trunk space is relatively small, but larger than that of the G37 Coupe or Mercedes C-Class coupe. The A5 rear seat folds, allowing access to the trunk, although not in the Cabriolet, whose trunk loses 2 cubic feet of space with the top down and folded.
Audi's MMI (multi-media interface) controls many of the car's functions with a central knob, somewhat like BMW iDrive and Mercedes-Benz COMAND systems, only MMI is quicker because it demands fewer clicks. The screen at the top center of the dashboard displays audio information and the optional navigation and rear camera. Still, having driven BMWs with 10-inch screens that can display navigation and audio at the same time, we now like them big. With Audi Connect, the navigation can be overlaid on Google Earth mapping.
The strength of the A5 is its smoothness at speed. The overachieving 2.0-liter turbocharged engine feels fastest from 50 to 70 mph, where you need it; that's partly due to the excellent Tiptronic 8-speed automatic transmission with a manual mode. The engine delivers strong torque over a wide range from 1500 to 4300 rpm, to propel the car from intersections and up hills. It accelerates from 0 to 60 mpg in as little as 6.1 seconds.
Fuel economy is an EPA-estimated 20/29 mpg City/Highway for an A5 Coupe or Cabriolet with quattro and 8-speed automatic, or 22/32 mpg with 6-speed manual. The front-drive A5 Cabriolet is rated 24/32 mpg. All A5 models require Premium gasoline.
The A5 chassis and suspension make an excellent package: perfectly comfortable around town on patchy pavement, while being totally capable on winding roads. We can't say that about many cars. The handling is responsive and firm, when pushed to the reasonable limit. The A5 is one of the best in this area, while options and upgrades can make the handling even better in the curves. Audi Drive Select allows programmable modes of performance.
The Audi S5 is another animal. It's powered by a supercharged 3.0-liter V6 producing 333 horsepower and 325 pound-feet of torque. It's fueled by direct injection and breathes through a two-stage intake manifold. It's mated to a 7-speed twin-clutch transmission that shifts in two-tenths of a second. A 2014 Audi S5 accelerates from 0 to 60 mpg in 4.9 seconds. The S5 coupe gets an EPA estimate of 18/28 mpg City/Highway with automatic, or 17/29 mpg with manual.
An optional active rear differential overdrives the outside rear tire in corners, forcing the front end to turn in more quickly. It also communicates with the vehicle's Drive Select system and stability control to help maintain control in emergency maneuvers.
There's nothing quite like the Audi RS5 with the lusty torque from its powerful V8 engine. Able to accelerate to 60 mph in 4.5 seconds, that one is EPA-rated at 16/22 mpg.