2014 Audi A6 Introduction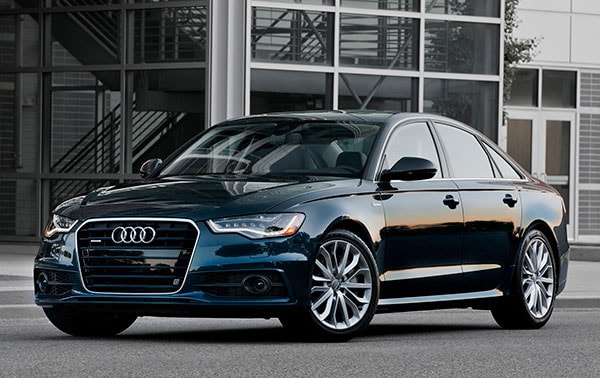 A redesigned Audi A6 sedan debuted for 2012, followed by a high-performance S6 for the 2013 model year. Also new for 2013, the Audi A6 2.0T became available with all-wheel drive as well as front-drive, while the A6 3.0T gained a top-view camera system and a fuel-saving start/stop system.
A new A6 TDI clean-diesel model joined the lineup for 2014, with an appealing EPA fuel-mileage estimate of 24/38 mpg City/Highway. Audi claims that beats the miles-per-gallon figure of any TDI competitor. In the A6 TDI, the V6 engine develops 240 horsepower and a burly 428 pound-feet of torque, working with an 8-speed Tiptronic automatic transmission and Audi's Quattro all-wheel drive. Audi says the 2014 A6 TDI can accelerate 0-60 mph in a swift 5.5 seconds.
Heated seats are newly standard in the entry-level 2014 A6 2.0 model. Audi A6 2.0T Premium models offer a new optional package with Xenon plus headlights and 18-inch wheels. The 2.0T, TDI and 3.0T models can have a new 19-inch wheel package with all-season tires and 15-spoke star-design wheels, as well as a 19-inch Sport package with 5-double-spoke wheels.
A new Black Optic package for the 2014 A6 and S6 features a black optic grille with high-gloss Singleframe® surround and gloss-black window surround, as well as 20-inch titanium finish 5-arm rotor-design wheels.
For 2014, A6 Prestige models include Audi side assist, which monitors the blind spot areas, as well as fast-approaching vehicles, at a range of approximately 150 feet to the rear. In an impending rear-end collision, Audi pre-sense rear closes the windows and sunroof and tightens seatbelts. The A6 Prestige model also gains power folding mirrors, while the 2014 S6 has these three features as standard.
Also new for 2014, the Driver Assistance plus package (which includes Audi adaptive cruise control with stop and go; Audi pre-sense plus; and power-folding, power-adjustable, auto-dimming, heated side mirrors with memory) now includes a Topview camera.
The base A6 2.0T uses a turbocharged 2.0-liter inline-4 engine that now makes 220 horsepower (up from 211 in 2013) and 258 pound-feet of torque. It's paired with a continuously variable automatic transmission (CVT) and comes standard with front-wheel drive. Audi's Quattro all-wheel drive system with an 8-speed automatic transmission is optional on the 2014 A6 2.0T. Fuel economy for the 2014 Audi A6 2.0T is very good, with an EPA-estimated 25/33 mpg City/Highway with the CVT and 20/29 mpg with the 8-speed automatic and Quattro. Premium-grade fuel is recommended.
The 2014 Audi A6 3.0T is silky smooth, and potent, with a supercharged, direct-injected 3.0-liter V6 that produces 310 horsepower and 325 pound-feet of torque. Quattro and the 8-speed automatic transmission are standard, as is Audi's stop/start technology, which turns the engine off at stoplights and during other lengthy idles to save fuel. Fuel economy is an EPA-estimated 18/27 mpg City/Highway. Premium gasoline is recommended, and Audi claims the A6 3.0T accelerates to 60 mph in 5.3 seconds.
The high-performance S6 is Audi's answer to the BMW M5 and Mercedes-Benz E63 AMG. The Audi sits between those two in terms of sportiness, with the BMW suited more for the racetrack, and the Mercedes more of a luxurious cruiser.
After a one-year hiatus, the Audi S6 returned for 2013 on the same new chassis the A6 received for 2012, with a body that's better balanced and more athletic. What differentiates the S6 from the A6 models is a more powerful engine, a sport-tuned adaptive air suspension, upgraded brakes and high-performance tires, as well as unique exterior and interior trim.
At the heart of the 2014 Audi S6 is a twin-turbocharged 4.0-liter V8. Cranking out 420 horsepower and 406 pound-feet of torque, the V8 is paired with a dual-clutch 7-speed transmission. Quattro all-wheel drive is standard. Although the engine in the 2014 S6 is slightly less powerful than its V10 predecessor, the 2014 S6 is faster and more efficient than the last generation. Audi estimates the S6 can go from 0-60 mph in 4.5 seconds, which is more than a second quicker than the old model. That's especially impressive, considering the current S6 is about 130 pounds heavier. EPA fuel economy estimates for the 2014 S6 are 17/27 mpg City/Highway, which is better than might be expected in view of the car's weight and performance.
As a fuel-saving measure, Audi's S6 employs cylinder on demand technology, which deactivates four of the V8's cylinders during periods of lower loads. Audi says this can reduce fuel consumption by 10 percent at moderate highway speeds. The S6 also benefits from a self-locking center differential and torque vectoring.
Plenty of electronic safety and convenience features are available on the A6 and S6, including lane departure warning, adaptive cruise control, pre-collision warning and night vision. There's even an option that can turn the vehicle's onboard wi-fi into a wireless hotspot for up to eight wireless-enabled devices.
It's hard to beat Audi's interiors, and the A6 is no exception. One arc flows gracefully into the next, on the dash and door panels, from vents to grab handles. On the 3.0T, the leather is grainy, wood is walnut, trim brushed aluminum. The S6's leather interior is quilted in a diamond pattern, and the instrument panel and doors can be trimmed in carbon fiber.
Each A6/S6 seats five people, but they're more comfortable for four. Rear legroom is decent, but the rear center seatback doubles as a fold-down armrest, so it's not contoured for a human back. Plus, the hump in the floor that houses the drivetrain underneath spreads the unlucky passenger's feet.
Competitors to the 2014 Audi A6 include the BMW 5 Series, Mercedes-Benz E-Class, and Jaguar XF. For the S6, buyers might consider the Jaguar XFR-S, BMW M5, and Mercedes-Benz E63 AMG.