2014 Audi A7 Driving Impressions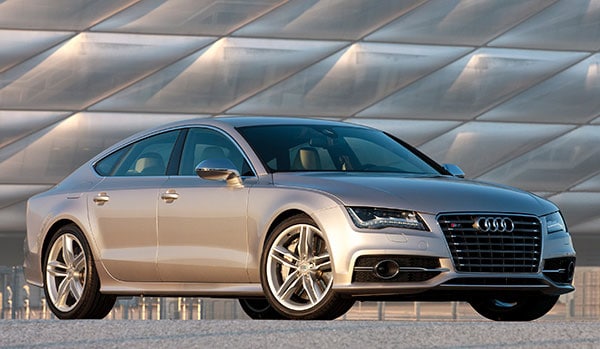 In its most basic variant, the A7 with its 3.0-liter supercharged V6, is fast and silky. With 310 hp and 325 lb.-ft. of torque, there's ample power and thrust, along with an EPA-estimated 18/28 mpg City/Highway (premium fuel is required). Acceleration from 0 to 60 mph is 5.4 seconds, enough to slip safely onto the freeway. The Mercedes CLS offers a big V8 with big horsepower, but that means significantly more money and less fuel mileage.
We haven't yet driven the new TDI model, but even though power output from its turbocharged 3.0-liter V6 is a modest 240 hp, its 428 lb.-ft. of torque should give it plenty of oomph. The torquey diesel also compensates at the pump as well, with an EPA-estimated 24/38 mpg City/Highway.
Shifts from the 8-speed Tiptronic automatic transmission are seamless, and standard paddle shifters allow you to fiddle with your own gear changes, or simply put it in Drive and forget about it. You can't even feel the transmission shifting on the climb up to 60 and beyond, and it will maintain 80 mph uphill without kicking down.
One version of the A7 Prestige we drove was equipped with a sport package that included 20-inch wheels, a firmer suspension and low profile, 265/35 summer tires. With this setup, the ride was smooth and comfortable at all times, but lane changing on the freeway kept us on our toes. For everyday driving, we prefer the standard 19-inch wheels.
Speed-sensitive electromechanical power steering system has a quick 15.9:1 ratio, which feels sporty and direct. The brakes are powerful with an easy feel requiring no concentration.
All models use Audi Drive Select, which allows the driver to choose one of four modes: Comfort, Auto, Dynamic and Individual. These modes adjust the transmission, power steering and engine to modify shift points, steering boost and throttle characteristics. Combine them with the standard Audi quattro all-wheel drive system for all-season traction, and you have an admirable package.
If the 3.0 is too pedestrian, there's the high-performance S7, which uses a twin-turbocharged 4.0-liter V8 4good for 420 hp and 406 lb.-ft. of torque. It gets the S7 from 0-60 mph in just 4.5 seconds, although fuel economy predictably suffers with an EPA-estimated 17/27 mpg City/Highway.
Although it's plenty powerful, we found the 7-speed dual-clutch S tronic transmission in the S7 to be choppy, with harsh kickdowns, especially when we hit the brakes. The gearbox also makes parking tricky, as it requires a bit of throttle to kick the car into gear, making it difficult to scoot up or back in tiny increments (some creep is built in, but it still wasn't as easy to modulate as the 8-speed automatic).
The S7 also uses Drive Select. Around town, we recommend Comfort or Auto mode for the smoothest ride and best fuel economy. On city streets, we found Dynamic mode to feel twitchy, with jackrabbit-like acceleration and grabby brakes. On high-speed sweepers or twisty canyon roads, Dynamic mode was well-suited to the task. But it lacks the seamless refinement of the 8-speed auto. We were fond of the Dynamic mode's enhanced exhaust note, however.
We especially look forward to driving the new Audi RS 7, the most powerful of the bunch. Its twin-turbocharged 4.0-liter V8 engine cranks out a whopping 560 hp and 516 lb.-ft. of torque and, according to Audi, blasts from 0-60 mph in 3.7, making it equally as quick as the V-10-powered Audi A8 supercar with the manual transmission. At lower speeds, cylinder deactivation technology allows the RS 7 to run a four-cylinder, improving fuel economy by up to 15 percent. Keeping our complaints of the S7's dual-clutch gearbox in mind, we find it rather telling that Audi chose to fit the RS 7 with the same 8-speed Tiptronic automatic transmission found in the 3.0 and TDI models. And despite the difference in performance, fuel economy isn't far from the S7, with an EPA-estimated 16/27 mpg City/Highway.