2014 Audi R8 Summary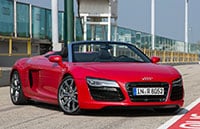 The 2014 Audi R8 is the total package. It boasts an incredible balance of speed and handling, something akin to playing Gran Turismo 5. It brags a comfort/usability factor that remains exponentially difficult to uncover in the supercar world, and will be priced far cheaper than the Ferrari 458 and the like. It appears more grown up than a Nissan GT-R, and prettier than a Porsche 911. An Audi R8 is a machine that will cause people to stop, stare and drool. And no matter how long you own the car for, without question, you will act in the exact same way, each and every time you open the garage door.
Alex Lloyd filed this NewCarTestDrive.com report after his test drive of the Audi R8 models. Alex finished fourth in the 2010 Indianapolis 500.