2014 BMW 2 Series Introduction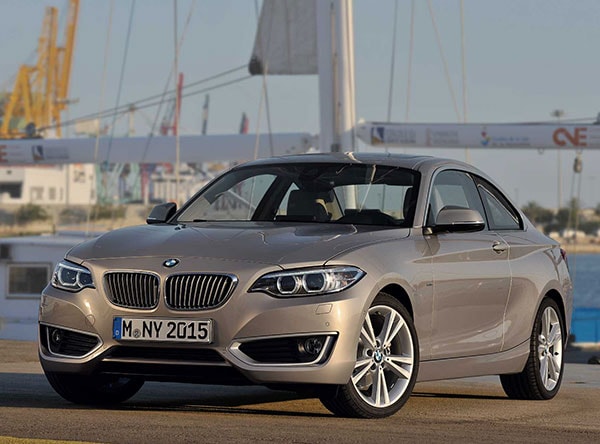 The BMW 2 Series coupe is the all-new gateway to the BMW lineup. The smallest and most affordable two-door Bimmer, the 2014 BMW 2 Series replaces the currently defunct 1 Series coupe, bringing it in line with the rest of BMW's new nomenclature of odd numbers for sedans and even numbers for coupes.
Like the 1 Series before it, BMW bills the 2 Series as a spiritual successor to the BMW 2002, a small coupe with a cult following that was produced from the late 1960s to the mid-1970s. But while today's 2 Series may pay homage to that early car in name and body style, it's in some ways far from the little coupe of yesteryear, which at its most basic was powered by a 2.0-liter engine making a scant 100 horsepower and riding on what seems now to be miniscule 13-inch wheels.
By comparison, the 2 Series is a monster. The entry-level BMW 228i is powered by a 2.0-liter turbocharged inline-4 that makes 240 horsepower and 255 pound-feet of torque. The line-topping BMW M235i (yes, the name is a mouthful) uses a 3.0-liter turbocharged inline-6 that makes a hearty 320 horsepower and 330 lb.-ft. of torque. Standard wheels are 17-inch alloys, and the BMW M235i rides on 18-inch wheels wrapped in sticky Michelin Pilot Super-Sport performance tires.
Much like current women's clothing, the 2014 BMW 2 Series is also larger than its predecessors. Compared with the 1 Series coupe, the 2 Series is 2.8 inches longer, with a wheelbase that's stretched 1.3 inches. It's also much wider than the 2002tii. In fact, the 2 Series' dimensions are not far from the e46 coupe, the two-door 3 Series generation from a decade ago. So just as yesterday's size 6 is today's size 0 in fashion, the same goes for BMW's so-called compact cars.
Unlike some new entry-level luxury cars (we're looking at you, Audi and Mercedes-Benz), the 2 Series keeps a nimble rear-wheel-drive platform; in this case, the same used previously on the 1 Series. Combined with BMW's signature 50-50 weight distribution, the 2 Series is perhaps the most tossable small luxury coupe on the market now. At a time when most manufacturers are going automatic-only, BMW also pacifies enthusiasts by keeping an optional 6-speed manual transmission on both models. The standard transmission is an 8-speed automatic.
In the U.S., the 2014 BMW 2 Series will be available only in 228i and M235i variants. Europe will get two diesel models, and a full-blown M2 is rumored to launch sometime in the near future, but none have been confirmed for North America.
Exterior lines on the 2014 BMW 2 Series have been stretched and tightened from the somewhat saggy-looking 1 Series. The 2 is in perfect proportion, with a stance that matches its agile handling and a face that's neither too aggressive, nor too cute.
Even though the 2014 BMW 2 Series is the most affordable car in BMW's current lineup, it's not exactly cheap. Starting at $32,100, it's more expensive than the entry-level Audi A3 or Mercedes-Benz CLA sedans (though it's not unusual for coupe body styles to cost more). There's a hefty price jump between the 228i and the M235i, and options add up fast. Our M235i test car was speced out at nearly $50k, only slightly less than the M Sport version of the larger 435i coupe. All said, the 2014 BMW 2 Series delivers design and performance worthy of an Ultimate Driving Machine, and, in the right configuration, is an excellent value.