2014 BMW 5 Series Summary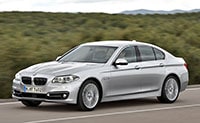 We think the BMW 5 Series are some of the best midsize luxury cars on the market. The 5 Series includes two body styles and a range of powertrains from efficient to powerful. The diesel-powered BMW 535d offers maximum torque and range. Gran Turismo models are larger and offer more passenger and cargo space while retaining 5 Series driving dynamics. The M5 is very fast, but pales on the track in comparison to newer offerings.
New Car Test Drive correspondents Laura Burstein and Sam Moses contributed to this report.