2014 BMW 5 Series Walk Around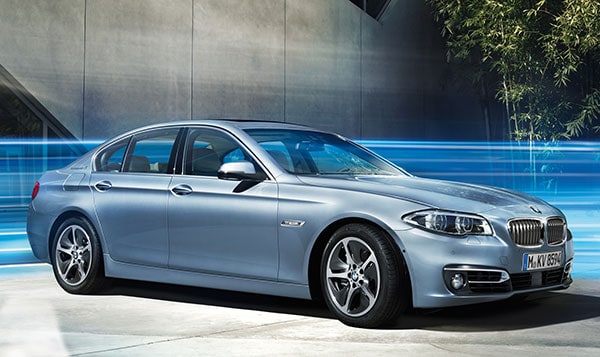 Though it's been refreshed for 2014, the outward appearance of the 5 Series is unmistakably BMW. With short front overhangs and muscular flanks that seem shaped by this car's dynamic forward thrust, the 5 Series never quite looks at rest.
The 5 Series sedan cabin is set considerably to the rear, giving its profile a slightly wedged, coupe-like forward-thrust shape. Handsomely flared wheel openings filled with large wheels and tires underline the car's muscularity and its rear-wheel drive layout. The signature (Hofmeister) kink in the rear side window's aft edge confirms that this is a bona fide BMW. Adaptive xenon headlights come standard, and LED lamps and tailamps are illuminated in an LED pattern distinctive to BMW.
Gran Turismo models are even longer, and have a larger, boxier rear that sits higher up.
Interior
The interior of the BMW 5 Series doesn't disappoint. In typical BMW style, the center stack, gauges and controls are oriented toward the driver. Controls are well placed, with the driver-only functions situated to the left of the steering column or on the wheel itself. Climate controls and ventilation are easy to reach. And unlike some of the less expensive BMWs, trim pieces are well integrated, of quality materials, and don't look stuck-on like in some configurations of 3 Series and 4 Series.
Standard front seats in 5 Series sedans have 10-way power adjustment. Larger adults will feel comfortable in the spacious seats, although those of smaller stature may have a tough time getting comfortable, and could feel like they're sloshing around on twisty roads.
The standard upholstery on 528i models is vinyl, but it looks good and doesn't appear cheap. The Dakota leather found on more expensive models is nice, though we prefer the optional (yet more expensive) Nappa leather. In sedans and GT models, there isn't much bolstering to hold you in during hard cornering, even with the optional Sport seats, but that's nicely taken care of in the M5, which will cradle your every move.
Instrumentation includes four classic circular gauges set against a black panel. We think the BMW's gauges are beautiful.
Navigation is now standard for 2014. Paired with BMW's iDrive interface, the nav is easy to use, once you get the hang of it. With the optional head-up display, navigation guidance can be read on the windshield just above the steering wheel.
Rear-seat passengers have adequate space; the 5 Series sedan offers 38.3 inches of read headroom, about on par with the Mercedes-Benz E-Class sedan, and more than the Cadillac CTS or Lexus GS. Rear legroom measures 36.1 inches, more than the Cadillac CTS or Mercedes-Benz E-Class sedan, but slightly less than the Lexus GS.
Cargo space in BMW 5 Series sedans is 14.0 cubic feet, slightly less than the Lexus GS and Mercedes Benz E-Class sedan, but more than the Cadillac CTS's 13.7 cubic feet.
Gran Turismo models are better for hauling people and cargo, with 39.9 inches of rear headroom and a plentiful 40.6 inches of rear legroom. Trunk space measures 15.5 cubic feet with all seats in place, up to 60 cubes with the rear seats folded down.