2014 BMW 5 Series Introduction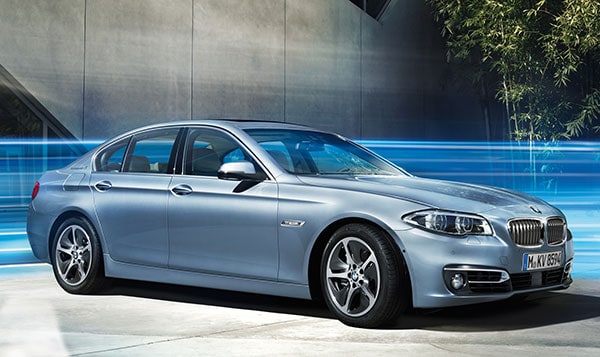 The BMW 5 Series offer a delightful balance of comfort and performance. Once known only as a four-door gasoline-powered sedan in the U.S., the 5 Series lineup has multiplied into more than a dozen variants, including a larger Gran Turismo body style, and a new diesel-powered sedan.
Mildly refreshed for 2014, the 5 Series gets a revised twin kidney grille, redesigned lower air intakes and new tail lamps. Like other BMW models on the market, the 5 Series is available in different lines: Luxury, Modern and M Sport, each with its own unique styling and trims.
Inside, the interior has been updated with standard navigation on all models and slightly more storage space, as well as new options like a rear entertainment system and personal concierge service. The updated iDrive interface also allows users to finger-trace letters and numbers on top of the control knob to enter information (similar to the touchpad found on Audi models).
The biggest news for 2014 is the 535d, available in both rear-wheel-drive and all-wheel-drive (xDrive) models, which uses a turbocharged, 3.0-liter six-cylinder engine that makes 255 horsepower and 413 pound-feet of torque. Not only does it get an EPA-rated 26/38 mpg City/Highway, but diesel's well-known range helped our 535d test car go more than 500 miles on a single tank, and that's with spirited driving. Although it has a $1,500 price premium over the gasoline-powered 535i, those who travel long distances, especially at highway speeds, could be very satisfied with their return on the money.
Carrying over are the BMW 528i, BMW 535i and BMW 550i variants, powered by a 2.0-liter turbocharged four-cylinder, and a 3.0-liter turbocharged six-cylinder, respectively. An 8-speed automatic transmission is standard; the 535i can be equipped with an optional 6-speed manual.
Line-topping 550i models continue to use a 4.4-liter V8, but for 2014, the engine has been retuned to make 445 hp, and 480 lb.-ft. of torque, an increase of 45 hp and 30 lb-ft., respectively. BMW says the 550i can speed from 0-60 mph in 4.5 seconds.
Gran Turismo models ride on a wheelbase extended by four inches, with 2+2 seating behind a long hood and under a coupe roofline. The Gran Turismo come in two versions: 535i GT with the turbo I6 and 550i GT with the V8. Each is available with xDrive all-wheel drive.
The performance-oriented M5 sedan is equipped with a 560-horsepower V8, available with a 6-speed manual 7-speed dual-clutch transmission with paddle shifters. In addition to minor styling updates, the Competition package is also new for 2014, which bumps up horsepower to 575, and includes a different exhaust system, minor tuning revisions and unique 20-inch wheels.
Competitors to the 2014 BMW 5 Series are formidable, including the Audi A6, all-new Cadillac CTS (now larger than before), Lexus GS and the recently redesigned Mercedes-Benz E-Class. Those considering the 5 Series Gran Turismo might also consider the elegant Audi A7, with its ample cargo space. Rivals to the high-powered M5 include the Jaguar XF-R and the Mercedes-Benz E63 AMG.