2014 BMW 6 Series Driving Impressions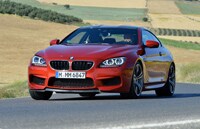 BMW 6 Series models are easy to drive and easy to drive fast. The ride quality is firm but it is not harsh when motoring around the neighborhood. All of these cars boast sharp handling with little unwanted leaning, diving or squatting. Three engines are available. Choice of driveline (engine, transmission, rear-wheel drive vs. all-wheel drive) affects the character somewhat but all have the above characteristics, with M6s predictably firmer but impressively civilized.
BMW 640i models are very sweet to drive and offer the strongest value. The turbocharged six-cylinder engine is incredibly smooth, a benefit of the inline-6 design, and it sounds nice, a heavily subdued if not sedated scream when at full song. The inline-6 in the BMW 640i is rated at 315 horsepower. More notable is its 330 foot-pounds of torque available from 1400 to 4500 rpm, which is a lot of power across a wide power band. Torque is that force that propels the car up hills and away from a standstill at intersections. Broad, powerful torque means the BMW 640i versions feel responsive when motoring around. Push down on the throttle at any time at any engine speed and the car responds immediately and easily, accelerating as much or as little as you'd like based on how hard you push down on the gas pedal. Our impressions have been that the 640i models feel lighter and more agile than their 650i counterparts.
In fact, a BMW 640i Coupe weighs 4001 pounds compared to 4275 pounds for a BMW 650i Coupe. An all-wheel-drive BMW 640i xDrive Coupe weighs 4190 pounds; a 640i Gran Coupe weighs 4191 pounds. The 640i Convertible is the heavyweight at 4586 pounds. A BMW 640i Coupe can accelerate from 0 to 60 mph in 5.3 seconds, according to BMW, and that's quick. A BMW 640i Gran Coupe clocks in at 5.4 seconds, while it takes the BMW 640i Convertible 5.5 seconds.
Fuel economy for the 2014 BMW 640i Coupe is an EPA-estimated 22/32 mpg City/Highway; Gran Coupe is EPA-estimated at 20/30 mpg City/Highway (or 24 mpg EPA Combined city and highway); 640i Convertible is 20/30 mpg; 640i xDrive Grand Coupe is 20/29 mpg. All BMW 640i models require Premium gasoline.
The 650i versions are all about power. The turbocharged V8 is rated at 445 horsepower peaking from 5500-6000 rpm and 480 foot-pounds of torque peaking at a low and broad 2000-4500 rpm. The V8 is more of a point-and-shoot kind of car, while the 640i, even with the longer wheelbase in the Gran Coupe, wants to caress the driver in the corners. A BMW 650i Coupe, Gran Coupe, and Convertible can accelerate from 0 to 60 mph in 4.5 seconds, which is substantially quicker than their 640i counterparts. The weight difference is slightly less, with the 4430-pound 650i Gran Coupe weighing 155 pounds more than the 650i Coupe, compared with a 190-pound difference for the respective 640i versions; and perhaps the torque from the V8 engine reduces the weight factor a little. In everyday driving, the 650i more easily responds to throttle inputs so it's even more pleasant to drive around town or in busy freeway traffic. The 650i Coupe, Gran Coupe, and Convertible are EPA-rated at 17/25 mpg City/Highway.
The 8-speed ZF manual automatic transmission with paddle shifters works well in the 640i and 650i models. The top two gears are serious overdrives, with long-legged ratios of 0.839:1 and 0.667:1, so the freeway rpm's are way low. Driving casually in automatic mode, the upshifts are seamless, and kickdowns are relatively infrequent; the transmission is programmed to use the engine's torque. In effect, it's a close-ratio 6-speed, and, using the paddles, you can play with it like that. It will respond sharply and obediently. It will deliver hard downshifts, and will short-shift upward when you want it to. It upshifts at 5800 rpm by itself in manual mode, so you don't need to watch the tach; importantly, it upshifts at the same rpm every time, it doesn't second-guess the driver. We rarely are able to make those statements about automatic transmissions, not even the sportiest of them.
There are five driving modes: Comfort, Comfort Plus, Sport, Sport Plus, and Eco Pro. The driver can tune throttle response, power steering boost assistance, shock absorbers, automatic transmission shift characteristics, roll stabilization, and Integral Active Steering, to more than 250 combinations. If you're not overwhelmed, you can look at it two ways: perfection exists in there somewhere, or you'll go crazy trying to find it.
We've tried all five dynamic modes and could feel the difference between Eco Pro, Comfort and Sport, but not Comfort and Comfort Plus, or Sport and Sport Plus. Perhaps long drives would reveal the benefits of tuning the suspension this precisely. We noted that the ride in Sport mode was not harsh, and the transmission shifts came more quickly while the throttle response was sharper, so Sport a good mode to drive around in when you're not feeling lazy. Also the steering is quicker.
In Comfort mode, the steering is slower, and the transmission upshifts when you let off the gas. That's fine around town. We read one review that said Comfort Plus is mushy, but sometimes mushy feels good.
The Eco Pro mode is for saving fuel, as much as 20 percent, says BMW. It changes the accelerator mapping so that the same pedal travel delivers less power than in other modes, and the transmission upshifts sooner and downshifts later. Special displays in the instrument cluster let the driver know how much the driving range is being extended.
The brakes use lightweight floating calipers and vented discs, and they too get the full technology treatment, with Dynamic Traction Control, Cornering Brake Control, Dynamic Brake Control, Start-off Assistant for hills, Brake Drying function and Brake Fade Compensation. We used them ruthlessly on a curvy downhill road in the mountains, and they didn't fade.
Optional Active Roll Stabilization reduces body roll in corners and transition. Sensors calculate the degree of body roll and trigger hydraulic rotary actuators in the front and rear anti-roll bars, for flatter cornering.
Integral Active Steering combines the Active Steering system for the front suspension with a steerable rear suspension. Precisely harmonized steering movements of the front and rear wheels create a virtual lengthening or shortening of the vehicle's wheelbase, which improves high-speed stability and enhances maneuverability for both parking and city use. It's magic, invisible technology.
All-wheel drive improves winter capability for the 6 Series. Fuel economy drops ever so slightly with all-wheel drive, mostly on the highway, to 20/29 mpg City/Highway for the BMW 640i xDrive Convertible, 640i xDrive Coupe, and 640i xDrive Grand Coupe. BMW 650i xDrive Convertible, 650i xDrive Coupe, 650i xDrive Gran Coupe are each rated at 16/24 mpg. Premium gasoline is required on all BMW 6 Series.
The M6 versions are comfortable when a luxury car is needed, sporty when a enjoying a winding road, racy when driven on a racing circuit.
An M6 Gran Coupe with the optional ceramic brakes is a fine machine for weekend track events. A BMW representative told us an M6 Gran Coupe is faster than an M3 on many racing circuits, an impressive performance for the larger, heavier sedan. Based on our experience and conversations with BMW, any advantage the two-door M6 coupe has over the longer, four-door M6 Gran Coupe is negligible: the M6 Gran Coupe and M6 Coupe deliver nearly identical performance and handling.
Take off your helmet and the M6 Gran Coupe is ready for an evening of fine dining for four. With the click of a knob, the suspension can be adjusted from track-ready to smooth and comfortable. It's an impressive transformation. In just a few seconds, the driver can easily adjust suspension, throttle, transmission, steering and traction settings to suit the road, driving conditions or mood. It is this duality, this ability to switch from Dr. Jekyll's luxury sedan to Mr. Hyde's track car and back again that makes the M6 Gran Coupe special.
BMW says the M6 Gran Coupe can accelerate from 0 to 60 mph in just 4.1 seconds, making it as quick as a Porsche 911 Carrera S with PDK and putting it in the top echelon of high-performance cars. The turbocharged BMW 4.4-liter V8 engine is fitted with a cross-bank exhaust manifold that looks like a work of art and helps it deliver 500 foot-pounds of torque across a wide power band, starting at just 1500 rpm and rocketing the car to its rev limiter. With no discernable turbo lag, the M6 accelerates like a powerful normally aspirated car does. With the optional Competition Package, the M6 boasts 575 horsepower.
The Environmental Protection Agency estimates the M6 Gran Coupe gets 14/20 mpg City/Highway with the automatic, 15/22 mpg with the manual transmission.
At the Circuit of the Americas near Austin, Texas, we found the M6 Gran Coupe powerful yet easy to drive. Hammering the throttle to the floor while exiting any of COTA's 20 turns induced massive acceleration, while the well-tuned suspension and drivetrain ensured excellent handling stability. The M6 Gran Coupe inspires confidence. With little experience in the car and no experience on the track, we were hitting 150 mph on the back straight within a few laps. Improving upon that was simply a thinking-man's (or thinking woman's) game of taking the previous corner perfectly for a higher exit speed and braking later for the next corner to extend the straightaway. There was no apprehension about the speed, no worries of going off the track with such an easily managed machine. It was like driving an autocross: it has your attention but you're not fearing for your life. Driving an M6 on a race track quickly becomes just driver and track. The car is so good it doesn't draw much attention to itself.
Ceramic brakes hauled the M6 Gran Coupe down to the appropriate velocity to turn in to the next corner lap after lap after lap, in searing, triple-digit summer heat before stopping in pit lane long enough to heat-soak before immediately starting another pounding session. An expensive option, the ceramic brakes were flawless all day and never faded in spite of this brutal treatment. Not many sedans can do that. If you're planning to take your M6 to a race track, spring for the ceramic brakes. If you know you're not, save yourself the money.
M6 versions are quite a bit different from the other 6 Series in the terms of engineering details. To make an M6, BMW starts with a rigid body-in-white, the key to sharp handling and a vibration-free ride. M6 models use no rubber bushings in the suspension. The racecar rigidity of this setup allows bigger tires. M6 models also benefit from an active rear differential that helps them put their power down without resorting to all-wheel drive.
The V8 engine produces 500 foot-pounds of torque, available from 1500 to 5700 rpm, and on the highway that incredibly broad range reduces the need to downshift. The engine redlines at a sweet and heart-pounding 7200 rpm, and its exhaust note is distinctive. Top speed is electronically limited to 155 mph, achievable by the M6 on a number of tracks around the country, including COTA, such is its amazing acceleration performance.
The M6 is loaded with sophisticated electronic driving features. Unlike other 6 Series BMWs, which use a button to select up to five driving modes, the M6 has three settings each for the shock absorber stiffness and damping, transmission shifting, throttle response, steering quickness and weight, and stability control. So there's little we can say about dynamics, because if the ride is too firm, you can make it softer. If the steering is too slow, make it quicker. And so on. We did note throttle tip-in is overly sensitive when starting away from intersections when in the sport mode.
Fuel economy for the M6 Gran Coupe is an EPA-rated 14/20 mpg City/Highway, or 16 mpg Combined. The federal government slaps the M6 a gas-guzzler tax. There's an Auto Stop/Start feature, which saves some small amount of gas by turning the engine off every time the car stops moving, and turning it back on when you take your foot off the brake pedal. It's a particularly annoying feature here because it does not operate smoothly. It can be defeated by pressing a button, but it recycles back to on every time the car is started so pressing it becomes something you can do after hitting the Agree button on the navi.
BMW says an M6 Gran Coupe can accelerate from 0 to 60 mph in just 4.3 seconds, putting it in the top echelon of high-performance cars. Jaguar says its XJR can perform this feat in 4.4 seconds. Mercedes-Benz says its CLS63 AMG can do it in 4.4 seconds. Audi says its S7 can get there in 5.4 seconds, while its RS 7 can be there in just 3.7 seconds. Porsche says its 911 Carrera can accelerate from 0 to 60 in 4.4 seconds with the PDK transmission, while the Carrera S can do it in 4.1 seconds.
The M6 transmission is a high-tech high-torque 7-speed double clutch, with paddle shifters. With all the different modes, it will do anything you want it to do, including behave like a sophisticated racecar transmission, or like a docile street automatic. It's linked to a new active differential that optimizes power transfer between the rear wheels. Some of us found it takes some getting used to. Most people like it. Some don't. Changing from Drive to Reverse and back to Drive usually means looking down to see you are in the proper gear; this sort of shifting can usually be done without taking your eyes off the road when using a manual gearbox and with some automatics.
The manual gearbox is more enjoyable, though the wide center console makes shifting awkward. When we drove the M6 Gran Coupes at COTA, a line formed for the manual gearbox while the automatics sat and waited for drivers.