2014 BMW 6 Series Introduction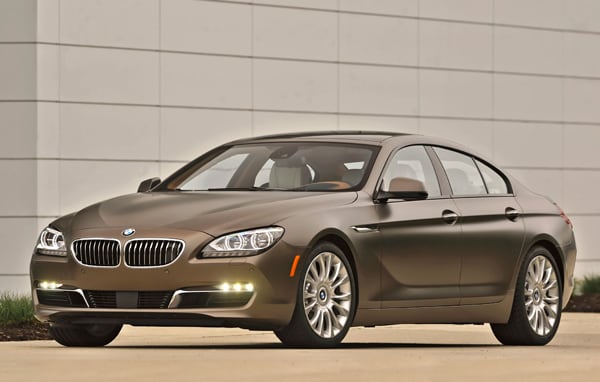 The BMW 6 Series is a range of stylish, sporty luxury cars in three body styles: two-door 6 Series Convertible, two-door 6 Series Coupe, and four-door 6 Series Gran Coupe. Each offers a choice of two engines, a turbocharged six-cylinder for BMW 640i models, a twin-turbocharged V8 for BMW 650i versions, plus a high-performance V8 for the M6 Convertible, M6 Coupe, M6 Gran Coupe. The BMW 6 Series models are based on rear-wheel drive, and xDrive all-wheel drive is available for BMW 640i and BMW 650i models.
This third-generation 6 Series began with BMW 640i and 650i coupes and convertibles, which launched as 2012 models. Gran Coupes, M6 models, and xDrive versions followed for 2013. For 2014, the BMW M6 Gran Coupe and 640i Gran Coupe xDrive fill out a broad lineup that now covers every combination of engine and body style.
New on all 2014 BMW 6 Series models is iDrive 4.2, the latest version of the system that controls navigation and vehicle functions.
Our test drives have shown all the 6 Series models to be refined, sharp, well-engineered machines, smooth and powerful, enjoyable to drive. We found this to be true of all three body styles, all three engines, rear-wheel drive or all-wheel drive. No lightweights, these are grand touring cars more than they are sports cars. They deliver exceptional performance and handling. Chassis balance is excellent, the car responds as expected, feeling in every situation as if it is on the driver's side. Drive one of these cars too fast into a corner and it does not get flustered.
Driving the three body styles revealed more similarities than differences among them. Gran Coupes are the best for rear-seat passengers, Coupes are the sportiest, Convertibles offer top-down motoring. Longer than the coupes and convertibles, the Gran Coupes offer four doors instead of two, along with more comfortable back seats. We hardly noticed the extra length of a Gran Coupe while driving, though its wheelbase is a significant 4.5 inches longer than that of a 6 Series coupe or convertible.
Choosing among the three engines is a matter of how much power you want versus what you are willing to spend. We found the BMW 640i models deliver plenty of power and are relatively agile due to their lighter weight. BMW 650i models deliver more power and are more responsive at all engine speeds. M6 versions feature raceworthy performance yet suffer surprisingly little in terms of comfort.
BMW 640i Convertible, 640i Coupe, and 640i Gran Coupe come with a turbocharged 3.0-liter inline 6-cylinder engine and 8-speed automatic transmission. We found the BMW 640i engine brilliant, silky and fast-revving. Its inline-6 uses direct injection and variable valve timing to generate 315 horsepower and 330 foot-pounds of torque from 1400 to 4500 rpm. BMW claims the BMW 640i Coupe can accelerate from 0 to 60 mph in 5.4 seconds. The 2014 BMW 640i Convertible and Convertible are rated at 20/30 miles per gallon City/Highway by the Environmental Protection Agency, as is the 2014 BMW 640i Gran Coupe. The 2014 BMW 640i Coupe is EPA-rated 22/32 mpg. Premium gasoline is required for all 6 Series.
BMW 650i Convertible, 650i Coupe, 650i Gran Coupe feature a more powerful twin-turbocharged 4.4-liter V8 engine and 8-speed automatic transmission. The 4.4-liter V8 in BMW 650i models produces 400 horsepower and 450 pound-feet of torque over a wide powerband, with peak torque available from 1750 to 4500 rpm. Zero to 60 mph comes in 4.9 seconds. Fuel economy ratings for 2014 BMW 650i models regardless of body style are 17/25 mpg.
BMW M6 Convertible, M6 Coupe, M6 Gran Coupe boast a raceworthy 4.4-liter twin-turbocharged V8 that serves up a stress-free 560 horsepower at 6000 rpm and 500 foot-pounds of torque from 1500 to 5750 rpm. M6 models offer a choice of 7-speed twin-clutch automated manual transmission or 6-speed manual gearbox, both of which demand a little more from the driver than do the other 6 Series model. EPA fuel economy figures are 15/22 mpg for 2014 BMW M6 Convertible, M6 Coupe, M6 Gran Coupe with 6-speed manual gearbox, 14/20 mpg with 7-speed auto-manual.
All-wheel drive, which BMW calls xDrive, brings winter capability in the form of the BMW 640i xDrive Convertible, 640i xDrive Coupe, 640i xDrive Gran Coupe; 650i xDrive Convertible, 650i xDrive Coupe, 650i xDrive Gran Coupe. Rear-wheel drive is standard.
The BMW 6 Series Gran Coupe competes with the Mercedes-Benz CLS. The M6 Gran Coupe competes with the Mercedes-Benz CLS63 AMG, Jaguar XJR, and Audi RS 7. All four are new for the 2014 model year, and all four are superb.