2014 BMW 6 Series Walk Around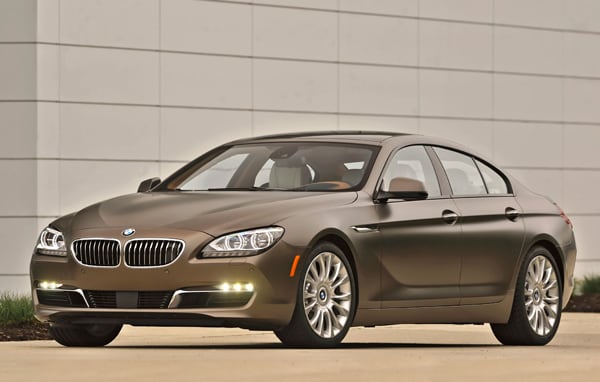 The BMW 6 Series is a lineup of sleek, sporty, elegant convertibles, coupes, and sedans. Their fluid lines and steeply raked windshield suggests an ability and willingness to slip through the air at great speed with big, elegant lines that flow rearward to a muscular rear end.
Up front, the twin-kidney grille is sleekly integrated into the rounded nose flanked by trapezoidal headlamps with LED accent lights above that look like glittery eyebrows. Optional Adaptive LED headlights have LED light rings for the parking lights and flattened daytime running lights with horizontal LED ribs. A gaping intake runs horizontally across the front like the mouth of a shark.
At the rear are LED taillight clusters. The BMW logo on the rear is in fact a small door that opens to let the rearview camera peer out when in Reverse, a nice feature because it keeps the lens from getting dirty. The M6 makes a statement of power with its wide track, fat rear tires and four exhaust tips coming out of the diffuser integrated into the lower rear fascia.
The Convertible is the most eye-catching, with the top down or even with the soft top raised sporting its flying buttress architecture. The standard black soft top looks best on black cars. The top can be raised or lowered at speeds of up to 25 mph. Or you can trigger it with the key fob before you get in or after you get out. It takes 19 seconds to open, 24 seconds to close. The heated glass rear window retracts with the top up.
From the side, the four-door Gran Coupe is clearly distinguishable from the Coupe thanks to its rear doors and 4.45-inch longer wheelbase. The Gran Coupe's features a stretched silhouette with low roofline flowing smoothly into the rear, the shoulder line, which takes in the door openers, and side windows extending well into the C-pillars.
M6 models look athletic, with a wider track and minor styling differences dictated by cooling-air requirements, aerodynamics and other functional considerations. Some of the aerodymamic aids on the M6 versions border on boy racer. The front wheels fill wide flared arches, while the fascia is filled by big black egg crate intakes, rimmed by fins and flaps to flow cooling air into them. On the sides, functional gills that could look distinctive are instead heavily chrome-plated, a design touch worthy of a Buick. High-gloss Shadow Line trim is used for accent. From the rear, a wide track, wide rear tires and four exhaust tips coming out of the carbon fiber rear diffuser give M6 an aggressive look. We're not crazy about the wheels, whether 19-inch or 20-inch, touched in black with wide spaces to expose the 15.6-inch rotors and six-piston calipers painted blue metallic or black. M6 versions feature a carbon fiber composite roof panel and trunk lid for reduced weight and a lower center of gravity. The rear diffuser on the M6 Gran Coupe eliminates the need for a rear spoiler.
Interior
BMW 6 Series models have upscale, businesslike cabins loaded with features.
The standard Dakota leather has a rich feeling. Nappa and Merino leather are optional. Merino leather upholstery comes standard on M6 models.
Seats are comfortable and luxurious. The seats are fairly broad and firm, although with many adjustments they can be made to fit any body size. Front seats provide a blend of comfort, snug fit and firm lateral support for hard driving. Cooled and heated seats work quickly and effectively and provide welcome relief from extreme temperatures. The optional Luxury Seating Package adds ventilated, active, multi-contour seats, sunshades on the rear side and rear windows, and a four-zone climate control system with additional controls located between the rear seats. M6 seats adjust every way imaginable, including lumbar and thigh support and adjustable headrest. They have added bolstering, but still not enough for the level of cornering that the M6 is capable of handling. BMW boasts that the M6 is ready and popular for track days, but some seat-sliding happens.
The instrumentation is clean and beautiful, with silver-rimmed analog gauges befitting of a high-performance car. The 200-mph speedometer is optimistic only in the sense that top speed is electronically limited to 155. Coincidentally or not, 100 mph is located on top, so your eye can watch the red needle at high noon. A Head-up Display is optional, which we found useful for monitoring speed while keeping our eyes on the road; it includes a shift light.
The center stack is relatively tidy, with some controls angled toward the driver. he handsomely stitched dashboard leather surrounds silver-rimmed analog gauges that are clean and beautiful, with white numbers by day and clear orange at night. There's a small horizontal window under the speedo and tach that's easy to read and scroll through to access travel information. We love the thick leather-wrapped three-spoke steering wheel, with controls for audio, phone and cruise control.
Navigation maps are displayed on a wonderfully wide 10.2-inch screen with a big eave so it can be read in the sunlight. BMW's display brilliantly uses color, and it's excellent for the navigation directions that can be displayed. Navigation information is displayed clearly, and there's enough room on the screen for audio info to be displayed at the same time. The screen in the convertible has a special reflective treatment so it can be seen in sunlight; we tried during our test of the M6 convertible, and it really works.
BMW Connected app, which allows drivers to access Facebook, Twitter, Pandora and paid music subscription service MOG accounts through a late-model iPhone or iPod Touch on the iDrive display. Blackberry and Android smartphones are out of luck. BMW Apps includes a track data recorder that can store information gathered from your lapping sessions. It records the same sort of information used by onboard computers at top professional racing schools. Drivers can compare data so you can see where you can improve. For example, you can see how someone comes out of a corner faster by braking later or earlier, getting on the gas sooner, etc. It's compelling information.
There's a small horizontal window under the speedo and tach, that's easy to read and scroll through. It provides great information, including feedback from all the drive and chassis settings that the driver can select.
BMW's iDrive, now in its fourth generation, is no longer an obstacle to the driver. Now it's actually easy, including operation of the navigation system, and tuning the satellite radio without dangerous distraction and confusion. The iDrive dial on the console controls many functions and is displayed on the display screen. BMW's has simplified and improved iDrive, though there's a learning curve to master it. It's so easy when you know how, not as easy when you don't. In the audio mode, it displays artist and song title.
Some of the technology can be annoying until you learn how to use it. At times, we found the shift lever uncooperative, the audible Park Distance Warning tone irritating, the Start button confusing, the navigation confounding.
The Bang&Olufsen sound system includes a speaker system designed exclusively for the unique shape and space of the 6 Series coupe. We found the sound quality impressive, but it's an expensive option.
Inside the Gran Coupe, it becomes more apparent that it is a sedan, not a coupe. We see the Gran Coupe as a four-seat car. A fifth person can conceivably sit in the rear center but there is no legroom due to the center console. If you need a five-seater, a Jaguar XJR may be more suitable.
The doors on the Coupe are wide, improving access to the rear seats, but it's a long reach for the driver to close the door, and the grip is small.
Rear-seat room in the Coupe is limited. A Fiat 500 offers more rear legroom. The 6 Series Coupe is a long car, but that length is more about style and driving dynamics than rear-seat passenger space. In the rear, legroom is adequate for average-sized adults, although taller passengers will feel cramped, especially in the coupe, which offers less headroom than the convertible with the top up.
Rear legroom in the 6 Series Coupe of 35 inches is adequate for average-sized adults, although taller passengers will feel cramped, especially in the low-slung Coupe, which offers less headroom than the Convertible.
The wide rear door aids getting into the back seats of a 6 Series Gran Coupe, but you have to turn your feet to clear the B-pillar that separates the front and rear windows. And the roof will whack your head if you're not careful. Once in, it's pretty comfortable. It's easier to get in and out of the rear seats of a BMW 7 Series and roomier once you're in, but the 6 Series Gran Coupe models have rear seats that are good for daily use. Rear legroom in the Gran Coupe is 35.3 inches, which is fine for a quick ride to a restaurant. The Mercedes-Benz CLS has just 35.0 inches of rear legroom, but the Audi S7 offers 37.0 inches while the Jaguar XJR provides 38.9 inches. The Jaguar XJR Long Wheelbase has 44.1 inches of rear-seat legroom, but it's nearly 10 inches longer than a 6 Series Gran Coupe.
Trunk space measures 13.0 cubic feet in the Coupe and Gran Coupe, 10.6 cubic feet in the Convertible (if allowing for the top to drop). By comparison, the Mercedes-Benz CLS has 15.9 cubic feet, Jaguar XJ 15.2. Audi A7 boasts a spacious 24.5 cubic feet thanks to its fastback five-door design. BMW 6 Series Coupe and Convertible have pass-through openings into the trunk for long items such as skis. We found the trunk lid heavy to pull down.