2014 BMW 7 Series Summary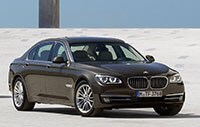 The BMW 7 Series is the ultimate driving machine among big luxury sedans. It offers impressive performance from its brilliant engines and 8-speed automatic transmission. Cornering balance is impeccable, given the car's weight, and its ride is flawless. A driver can easily tune damper stiffness, throttle response, steering response and transmission response. The deal-breaker might be that BMW tries too hard for ultimate electronics, introducing a myriad of inconveniences along with the attempted conveniences and safety warnings.
NewCarTestDrive.com correspondent Sam Moses reported on the BMW 7 Series after his test drives in Northern California, Mazda Raceway Laguna Seca, and the Northwest's Columbia River Gorge; with J.P. Vettraino reporting from Detroit; Kirk Bell in Chicago.