2014 BMW 7 Series Walk Around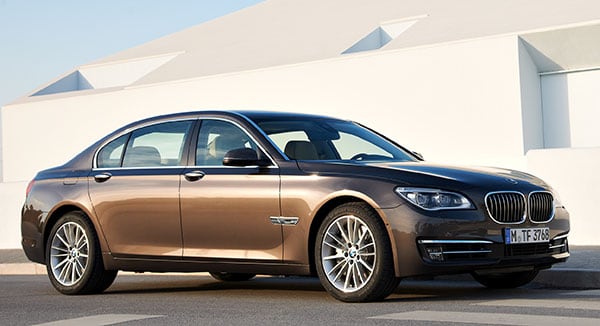 The lines of the BMW 7 Series are sensual and luxuriant, all within the parameters of modern structural design. Walk up to a 7 from the side or corner, and the beauty of the car blows you away. The long hood and sleek roofline add to the wow factor, especially when you notice the humped wheelwells and the short front overhang, almost like a racecar. We don't care for the chrome surrounding the windows, but a lot of people like it.
The face was tweaked for 2013, with more chrome around the grille, sleeker headlamps with LED rings, and a reshaped full-width front airdam, having unfortunate chrome slats at the corners.
The 7 Series definitely has a visual presence. The sheet metal contours, blending concave and convex surfaces, have lost the gratuitous scoops and scallops of the past. Fenders are chiseled nicely. The 7 Series has the maturity and sophistication appropriate to a car of its stature.
The long-wheelbase L models have their own roofline, creating a different profile from the shorter-wheelbase models. The L roof travels sensuously along with the rest of the car in order to keep it from looking like a stretched 740i/750i with a long tail. The result is a beautiful shape that also creates a tad more headroom.
From the rear, there's little to tell the world that the BMW 7 Series is a remarkable luxury car. The back end looks like any other car on the highway, with big taillights and a pair of chrome strips. A small lip on the trunk lid only adds accent to the car's lines when viewed from the side.
Interior
The BMW 7 Series cabin offers outstanding craftsmanship and technology, but some of the technology is complicated and takes time to learn. Whether the good outweighs the bad depends on personal taste. We sometimes find it overwhelming. Most owners adapt to it, however, and many say they like it and continue to select the 7 Series when their leases run out.
Each 7 Series model delivers the luxurious feeling that cars in this class are supposed to create. Comfort is superb in the front seat or rear seat, especially in an Li model with its longer wheelbase and 4.4 more inches of rear legroom. It's got 44.3 inches, compared to the Jaguar XJL at 44.1 and Audi A8L at 42.9.
The 7 Series models with the standard wheelbase still have good legroom of 38.9 inches, sufficient for adults up to six feet tall without cramping them. The doors open way wide, for easy entry and exit; however, the front doors need to be closed by pulling on a notch in the armrest, and it's too far to reach easily.
The front cabin is focused on the driver, with the instrument panel and controls angled toward him or her. Excluding the trunk button, that is, which is located down so low you can't see it or reach it with your seatbelt fastened. The doors use a combination of convex and concave surfaces, designed to generate a feeling of depth, and make the driver feel secure. But try to use the over-engineered center console, and you might bump the wrong thing and a small wing will awkwardly flip up under your elbow. It's also way too easy to bump the console's shift lever into neutral when you're driving in Sport mode, and this can actually be dangerous.
Seats, redesigned for 2013, are broad. The standard Nappa leather is soft and rich feeling. Until you feel the optional Alcantara, that is, which is even softer and richer. Polished wood is available in several choices. We love the available stitched leather dashboard, standard with the V12 760Li. The leather-wrapped steering wheel is just about perfect, and some drivers will find its audio controls close to salvation.
The dashboard is low, thin and lovely, and the instruments are beautiful silver-rimmed analog gauges. The speedometer, tachometer, temperature and fuel gauges are among the best-looking anywhere. There's an excellent display with a large 10.2-inch high-definition screen, using trans-reflective technology that makes it easy to read in sunlight.
The audio and navigation systems, phone, infotainment and other functions are controlled by BMW's iDrive. The menus for Navigation and Radio/Media were restructured for 2013, but this latest version is still bewildering, and it consumes large amounts of concentration while you're trying to focus on the road in front of you. We have, however, talked to 7 Series owners who have learned how to operate iDrive effectively, and some like it.
The current version incorporates Menu, CD, Tel, Radio, Nav, Back and Option buttons around the central controller. These buttons cut down on the number of steps it takes to access various functions, but it's still pretty complicated. We were dismayed by the array of questions that had to be answered when we pressed Menu. There are loads of options we never knew we needed or wanted, all with strange names that didn't describe any function we know of. Ditto with icons.
There are also eight programmable buttons that look like radio presets. They can be used as presets or to program commonly used functions, such as favorite phone numbers and important navigation destinations.
Overall, we had trouble with many little things. The seatbelt pretensioners annoyingly tightened on us when we tried to lean forward for better visibility pulling onto the highway. On our 750Li, we kept getting a message on the big screen that said Passenger Restraint System: Malfunction. Consult nearest service center. There seemed to be nothing wrong but the message. When you see "consult nearest service center" on your BMW screen, as we did far too often, you see time flying out the window on hundred-dollar bills.
The standard climate control system offers up to four separate temperature zones, but we drove the 750Li during a heat wave, and the air conditioning on max couldn't make the cabin cool enough. In addition, it defaulted to 70 degrees each time the car was shut off.
All the warnings for detection systems drove us crazy with their crying wolf. The only good news is that they're optional equipment. Don't get us wrong, systems that prevent accidents are a wonderful idea; but we got all false alarms, and many times the false warning itself was a hazard. The night vision kept seeing things that weren't there, on the dark road ahead; what's more, if there had been a deer, the night vision probably wouldn't have been able to detect it. Lane detection kept beeping at us and vibrating the steering wheel to warn us that we were wandering, when in fact all was fine except the road was curving; a BMW spokesman admitted to us that it should be turned off on curving roads. It's only good for freeways, but even there, we found it to be hysterical. The blind-spot monitor relentlessly blinked at us whenever we passed a guard rail.
We aren't comfortable with the overly ambitious rearview camera. Once, we nearly backed into a pole because the camera didn't warn us; meanwhile, we got awfully sick of it honking to warn us that there was a parked car near our front bumper, when we were backing up. It's not just the 7 Series; we've seen it on other BMW models. The rearview camera stays turned on after you drive away. You have to keep confirming things to get the screen to give you clear information. Sometimes, in order to get an incorrect warning off your screen that something is unsafe, you have to do something unsafe, such as take your concentration off the road and mess with the screen.
Cubby storage in front is in short supply for a car of this size, so sometimes you have to use the cupholders. All we had was a micro cassette tape recorder, a set of keys, a garage door opener, and some bridge toll tickets; was it too much to ask of our six-figure car to find us somewhere to put them? Small door pockets help little.
The 7 Series will do better with hauling big things. The trunk of the 7 Series, whether short-wheelbase or long, measures a roomy 17.7 cubic feet. Compare that to the Lexus LS, with 18.0 cubic feet; the short-wheelbase Audi A8, 13.2 cubic feet; or the long-wheelbase Jaguar XJL, 15.2 cubic feet. The BMW ActiveHybrid 7, because of its lithium-ion battery in the trunk, only has 12.7 cubic feet.
Finally, there's the standard Auto Stop/Start system, whose infamy is growing nearly as fast as iDrive's did. When you come to a stop, the engine turns off, to save fuel. But it's annoying when it restarts with a slight jerk of the car, and other unintended consequences. Once we needed to pull away and turn very quickly, but the steering wheel wouldn't budge until the car fired. The Mercedes and Jaguar systems work much more smoothly.
You can shut BMW Stop/Start off, but you must do so each time you get in and start the car, because it defaults to on. Stop/Start is an idea with good intentions and potential, but the execution isn't there yet. BMW and other automakers install these systems mostly to get government credits toward future Corporate Average Fuel Economy standards from the Environmental Protection Agency.