2014 BMW 7 Series Introduction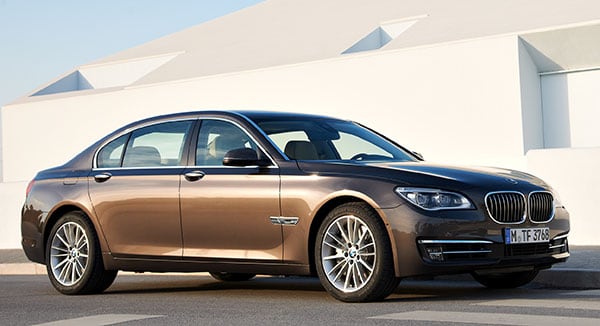 BMW's biggest sedan got a number of changes for 2013, led by improvements in horsepower and efficiency to the two most popular engines: the inline-6 and V8. An 8-speed automatic transmission also debuted.
For 2014, new features are added to BMW's suite of connectivity/convenience services, including Assist eCall, TeleServices, advanced real-time traffic information, and enhanced USB/Bluetooth. All 2014 BMW 7 Series models except the Active Hybrid and Alpina gain a Dynamic Digital Instrument Cluster, which permits a customized view based on Driving Dynamics Control settings. Navigation includes an iDrive touchpad controller, and the Comfort Access keyless entry adds a smart-closing feature for 2014.
The 2014 BMW 7 Series comes with two wheelbases, four engines, and rear-wheel drive or all-wheel drive. Prices range from about $74,000 to nearly twice that.
In addition to the inline-6 and V8 engines, there's a V12 and a hybrid powertrain, all of them turbocharged. The six-cylinder and the V8 come with rear-wheel drive or all-wheel drive. Active Hybrid 7 (which mates with an inline-6) and V12 sedans only come in long-wheelbase versions.
The 2014 BMW 740i is our choice because its 3.0-liter turbocharged inline-6 is so sweet, and it delivers quick acceleration with 315 horsepower and 330 foot-pounds of torque from 1300 to 4500 rpm.
The 2014 BMW 750i contains a 4.4-liter turbocharged V8, delivering 445 horsepower. The V12 makes 535 horsepower, allowing the BMW 750Li to drive around in a sensational silky rocket world of its own.
The 2014 BMW ActiveHybrid 7 uses a lithium-ion battery in the trunk powering a 55-hp electric motor, and it makes more horsepower (350) than the base 740i. The ActiveHybrid 7 is rated 22/30 mpg by the EPA, which is not so great for a hybrid.
After a few hundred miles in a BMW 750Li, we concluded that the 8-speed transmission is quick, smooth and smart. It offers a manual-shifting feature.
As for the 7 Series ride, you won't find flaws there, either. You can tune it yourself, using the Dynamic Driving knob with four settings: Normal, Comfort, Sport and Sport Plus. They control the damper stiffness, throttle response, steering response, transmission response, and stability control.
There's also an Eco Pro mode, which we used for casual driving. We were never inconvenienced by the dialed-back power, and were astounded by the fuel mileage: 19.4 miles per gallon in this 445-horsepower V8 that weighs 4660 pounds, while driven over mountain roads as well as around town.
The only bad part about driving the 7 Series was the bewildering electronics and hysterical safety warnings. We'd say they drove us crazy, except we were already half-crazy from the others, including Volvo and Mercedes-Benz.
From a dynamic standpoint, the 7 Series is a satisfying machine to operate: superbly comfortable and quiet, and quick and agile for a sedan of its size and weight. Naturally, the V12 is swifter than the inline-6, but the six-cylinder is quick enough.
From a non-dynamic perspective, however, driving can be frustrating, because engineers and designers attempted to re-invent and BMW-ize so many things. They made some items, such as the gimmicky gear selector and rearview camera, problematic when they're in fact simple.
The BMW 7 Series interior offers the best that contemporary automobile craftsmanship and technology have to offer. Each 7 Series model delivers the luxurious feeling that cars in this class are supposed to create. Comfort is superb in the front or rear seat, especially in an Li model with its longer wheelbase and 4.4 more inches of rear legroom. The 740i and 750i models with the standard wheelbase still have good legroom (38.9 inches): enough for adults up to six feet tall without cramping.
Also new for 2014 is a long-wheelbase, all-wheel-drive 740Ld xDrive sedan with a 3.0-liter turbodiesel six-cylinder engine that develops 255 horsepower and 413 pound-feet of torque.