2014 BMW X3 Driving Impressions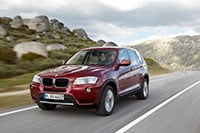 The BMW X3 handles well and we found it to be extremely smooth, with much of the sound of the car's undercarriage effectively attenuated. Even on gravel roads, the X3 is quiet and unruffled. This commendable compliance does not translate into a sloppy ride. Indeed, ride-motion control is exemplary, so progress is smooth and flat, just the way it should be. The X3's stable but well-cushioned chassis covers rough ground with little transmission of sound or vibration.
Big 12.9-inch disc rotors inside 18-inch wheels, shod with 245/50R18 tires, slow the X3 xDrive35i's 4222-pound mass with real authority, backed up by ABS. Run-flat tires on 19-inch wheels are available for the xDrive35i. The base-level xDrive28i has the same brakes and tires.
BMW employs an electric steering assist system, and its engineers have not done a bad job of overcoming the feedback challenges attendant to this burgeoning technique. In the X3, wheel weighting verges toward hefty, perhaps a tad too much so, accompanied by quite a bit of self-centering torque; but this should not be confused with real steering feel.
Nonetheless, clear and readable off-center response combines with very accurate path control to imbue the steering with a sense of virtual feedback feel that the mechanism itself does not impart in great measure. Better get used to it, because EPS (electric power steering) will soon be the norm on passenger cars. The rest of the X3 chassis allows sporty driving with plenty of attitude control, and, with the optional electronic damper control, surprising adaptability.
The turbocharged inline-6 in the xDrive35i is responsive and powerful, driving the biggish vehicle from rest to 60 mph in about 5.5 seconds, and on to a governed 130 mph track speed. The 8-speed automatic transmission provides for close-ratio staging and quick responses to a dig at the accelerator pedal.
At the same time, the X3's broad torque band allows relaxed cruising at low engine speeds that will calm passengers and save on fuel. The combination of a relatively compact overall size, excellent power, outstanding poise, plus impressive space and comfort, ought to attract all those earlier X3 fans back to this current one, along with a horde of fresh converts.