2014 Buick Enclave Driving Impressions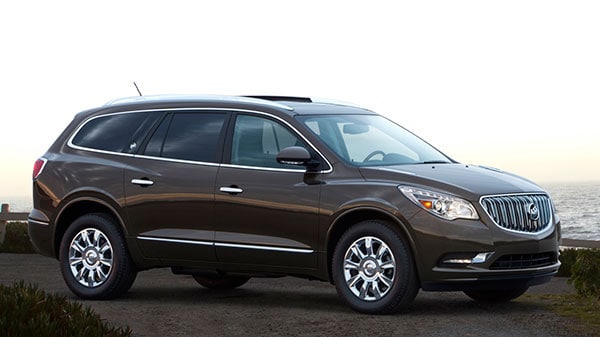 Approaching a massive, nearly 5,000-pound vehicle like our test AWD Premium Enclave, we were prepared to drive a truck. After all, everything about the Enclave suggested an experience that, in one way or another, could amount to a struggle.
Yet from the moment we put the Enclave into Drive, accelerated onto a nearby freeway onramp and blended into Interstate traffic, there was nothing to struggle about. The Enclave is like a professional football player; everything's in balance, only it's a lot bigger and stronger than you're used to.
Buick's larger crossover is a carefully calculated equation of acceleration, balance, and surprising agility. Despite its size, Enclave moves with the self-contained athleticism of a much smaller vehicle. In fact, the first impression it made in traffic was that it feels smaller than it really is. This impression is the product of first-rate dynamic engineering; the Enclave feels easily controlled, capable of making any reasonable move a smaller vehicle could make when necessary. No mean achievement in a 4,922-pound vehicle.
The 2014 Buick Enclave is exactly what it needs to be: a provider of steady, predictable, balanced family transport. Acceleration, cornering and braking are competent, offering good margins of safety and avoidance in emergencies. That's not to say the Enclave is exciting to accelerate, corner or brake hard; the word is confident. This Buick does the important automotive assignments reliably, which is what its family buyers demand.
Enclave benefits from all the latest fuel-efficiency advances. Its 3.6-liter V6 engine delivers an EPA-estimated 24 mpg Highway in the front-wheel-drive model, though our all-wheel-drive Enclave was rated slightly less, at 22 mpg Highway. Just a few years ago, this rating would have been closer to 17 mpg. Yet even at a relatively parsimonious 22 mpg, this engine delivers sturdy acceleration, with no irregularities in throttle response. This is an engine and drivetrain well attuned for grown-ups on a family mission.
The Enclave suspension contributes its part in making the vehicle feel smaller and lighter than it really is. Cornering through country back roads, there was little roll or sway, and the ride was both smooth and attentive, letting the driver know what the road surface was like. This contributes to keeping the driver alert, as well as providing warning if surface traction is changing.
The brakes were up to their very considerable task. Pedal feel was firm and it was easy to control and modulate brake pressure as needed. Steering feel was also very good, with just the right degree of firmness to keep the driver fully engaged with the road and the act of driving. There was no hint of steering numbness, nor any tendency to wander across lanes at Interstate speed. The Enclave is, in short, fully prepared to deliver on the family's next adventurous road trip.