2014 Buick Encore Driving Impressions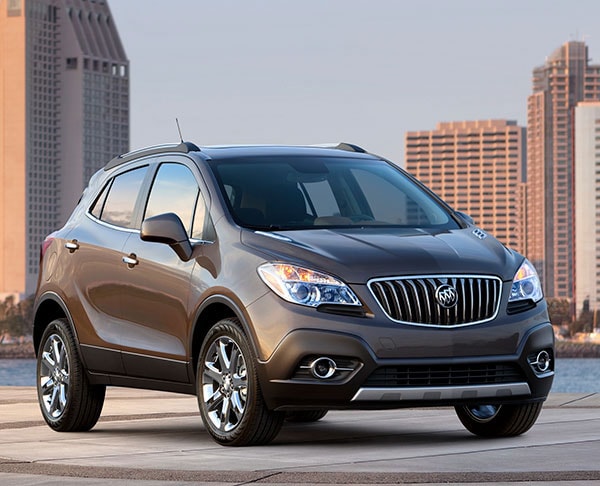 The business end of this little/big Buick Encore is, of course, what it's like to drive. With its tiny turbo four-cylinder engine, can it really be luxurious? Or is it just a buzzy little four-cylinder people-box with nice seats?
We pointed the Encore onto an Interstate and floored it. Acceleration is roughly in the 9-second zero-to-60 range, adequate most of the time. But the most interesting quality of this little 1.4-liter turbo engine is that, while it surely thrashes furiously to accelerate, it doesn't make the upsetting, graceless groan most little four-cylinders emit at full throttle. Engine noise is audible, but it's civilized and not unsettling, a revelation for such an engine.
Helping the engine enjoy life, the 6-speed automatic Hydramatic transmission is very smooth-shifting, giving the Encore's acceleration an altogether civilized and, dare we say, luxurious tone. Farther along the Interstate, when we wanted to accelerate and floored the throttle, the Hydramatic took a long time kicking-down two gears. However, when the gearshift button on the top of the shift lever was used, downshifting took place forthrightly. All doubts aside, the Encore drivetrain is far better than any description of it might suggest. It's small, efficient, straightforward, and given those constraints, entirely competent.
But we can't be sure how much of this Buick competence still isn't smoke and mirrors. That's because the Encore employs some extremely advanced measures to assure its creatures' comfort. This is the first Buick to employ Bose's active noise-cancellation technology. This system uses a microphone to take in the ambient sounds being generated in the Encore interior, analyzes those sounds to determine what opposite sounds will cancel them out, then broadcasts the latter.
It sounds improbable, if not impossible, but driving the Encore at highway speeds, it is uncannily hushed and pleasant. Some of this is surely due to good aerodynamics and the lack of wind noise around the windshield and outside mirrors. But the serene level of mechanical sounds in the Encore at speed is almost certainly thanks to the Bose system. Who can guess what this will mean for peace and quiet in cars of the future? For the present, every Encore has noise cancellation, standard. It's a species of luxury few of us had expected.
Steering effort in the Buick Encore is firm, live, absolutely right. As we moved into the rural parts of our route, the vehicle's cornering and lateral dynamics proved similarly firm and free of distracting roll. We found the brakes powerful and well controlled, allowing good modulation.