2014 Buick LaCrosse Driving Impressions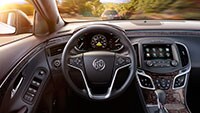 The Buick LaCrosse is not intended to be a sports sedan, but with the V6 with active suspension it can hold its own in that broadening world. It doesn't corner with the spirit of the smaller Buick Verano because its wheelbase is 112 inches (5 inches more than the Lincoln), but it handles way better than you'd ever imagine from a big front-wheel-drive American sedan.
Faster cars are easy to find, but the 3.6-liter V6 is fast enough; it accelerates from 70 to 80 mph with zero effort, totally smooth and silent. When you floor it at slower speeds, the motor does its best to growl, but it's subdued.
Active suspension, standard on Premium I and II models, works by continuous electronic adjustment of the dampers, with sensors reading the road and making instant adjustments. Combine this with Buick's HiPer Strut front suspension, reducing torque steer by electronically adjusting the camber and isolating bumps, and you've got great ride and handling.
We didn't push it hard and fast over bumpy curves, but we came close enough to be satisfied that LaCrosse drivers will be pleased. With its compliant ride, the LaCrosse will work well for road trips, even with a couple of kids in the back.
In Sport mode, the 6-speed automatic transmission is worthy of a sports sedan. In Sport Manual it will not automatically upshift at 7000 rpm redline, it just levels the power and hangs there waiting for the driver's command. There is a growling rev-matching blip when you downshift hard, as the transmission accepts early downshifts into second gear, to decelerate for a slow corner. In Automatic mode it's invisible. You can't ask more than that.
We also got seat time in an eAssist with the electric motor that boosts power on demand. It's got good torque. Cruising is quiet. Its 6-speed automatic transmission is smooth and intelligent. You can feel the regenerative braking in your foot on the brake pedal, but it's not bothersome. You can also feel the Stop-Start system, which shuts down the engine at redlights, stop signs and such. The variable-ratio electric power steering, same system as in the V6 fwd, provided firm control at speed and light effort when parking. Good feel at the brake pedal, easy to make smooth progressive stops. The cabin was as quiet as the V6.