2014 Buick Verano Driving Impressions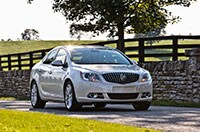 The Buick Verano rides nicely and is delightful to drive. We drove 250 miles over some twisty roads in the Tillamook Forest, just inland of the Oregon coast. The Verano loved it all and so did we.
The 2.4-liter Ecotec base engine produces 180 horsepower and 171 pound-feet of torque, and that's enough for most needs. Zero to 60 mph takes a modest 8.6 seconds, according to Buick, but it never frustrated us with lack of acceleration, and it impressed us with how smooth and quiet it was. Plus, it delivered 27.5 miles per gallon even with some spirited driving. EPA estimates are 21/32 mpg City/Highway.
Don't count on a lot of torque at 3000 rpm. Indeed, we found the response sluggish when merging from a tight onramp into flying freeway traffic. But the power comes on stronger at 4000 rpm and pulls willingly up to 6000. Though the engine is usually quiet and subdued, it becomes louder as you approach the 6700-rpm redline.
The 6-speed automatic complements the package nicely, being smooth and intelligent. It upshifts sharply at 6000 rpm and beyond, and downshifts quickly to provide extra power when needed.
More fun is the turbocharged 2.0-liter engine. It cranks out 250 horsepower and 260 pound-feet of torque, adding power to the Verano's mix of refinement and responsive handling. Buick says it cuts the 0 to 60 mph time to 6.2 seconds, though it doesn't feel quite that quick. Still, it adds power throughout the rev range, making passing a breeze and offering much more aggressive launches. Despite the extra power, the 2.0 is even quieter than the 2.4, and there is very little fuel economy penalty. The 2.0 Turbo is rated by the EPA at 21/30 mpg with the automatic transmission and 20/31 mpg with the 6-speed manual.
Car guys and gals will like the fact that the 2.0 is offered with a manual. Gearshifts are somewhat long and rubbery, but it's still cool to row your own gears, especially while driving in the twisties.
While the Verano doesn't have an independent rear suspension, its Z-link is almost as good, and it contributes to the car's impressive handling and balance. Bolted to a frame crossmember, the Z-link consists of a pivoting center link attached via joints at its ends, to links that go to the wheels. It works for us. We found a spot with 16 miles of relentless rhythmic curves and no traffic, and this Buick was up to the task. While the steering is a bit slow and too light for our tastes, the car is still crisp and responsive upon turn-in. We used the firm brakes pretty hard, and they felt good. The Verano is not a sports sedan, but it handles very well and rides smoothly.