2014 Cadillac CTS Driving Impressions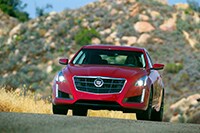 The 2014 Cadillac CTS is responsive, lively and athletic. It handles as well as the best European sedans, yet it's also comfortable, smooth and quiet. The base 2.0-liter turbocharged engine is capable and fun, and is the best choice for everyday commuting. At high rpms it sounds like it's working hard, but isn't quite as whiney as the four-cylinder turbo used in the BMW 528i. The 2.0-liter turbo is the most efficient of the CTS lot, with an EPA-estimated 20/30 mpg City/Highway on rear-wheel drive vehicles and 19/28 mpg City/Highway with optional all-wheel-drive.
Better suited to the CTS is the upgraded 3.6-liter V6. Acceleration is effortless, and gives smooth and satisfying power. As expected, fuel economy dips a bit, with an EPA-estimated 19/29 mpg City/Highway on RWD models and 18/26 mpg with AWD.
Most impressive (and most expensive) is the hot-rod CTS VSport, which skyrockets effortlessly down the road and through twisty canyons with its all-new 3.6-liter twin-turbocharged V6. On two-lane roads, we shot by slower cars effortlessly, making the drivers left behind wondering what had just happened. Fuel economy is an EPA-estimated 17/25 mpg City/Highway.
Sound insulation is quite good in the cabin of the CTS. On the upgraded 18-inch wheels, we noticed very little road and tire noise, and virtually no wind noise. Larger 19-inch wheels were, as expected, a little noisier, but we didn't find it unbearable. All models come with active noise cancellation, which helps to reduce ambient noise inside the cabin, much like noise-cancelling headphones.
On CTS VSport models, engineers took it a step further, carefully orchestrating the cabin acoustics using active noise cancelation and microphones to keep out the bad noises and pipe in the good ones. The result is a satisfying, audible growl when you get on the throttle, especially in Track mode.
All of our test models came with the optional Magnetic Ride Control. This adaptive suspension system manages the CTS's weight beautifully around tight corners and long sweepers. Both the 2.0 turbo and the 3.6-liter have a choice of three driving modes: Touring, Sport and Snow/Ice. CTS VSport models have an added Track mode. Each changes the car's setup to range from comfortable to ultra-competitive. We haven't gotten a chance to test the standard CTS suspension.
All CTS models come with Brembo brakes, which are firm and confident, but not overly touchy. Upgraded brakes on CTS VSport models have more bite, as one might expect. Upgraded brake pads on the CTS VSport are even better, but also make more dust.