2014 Cadillac CTS Walk Around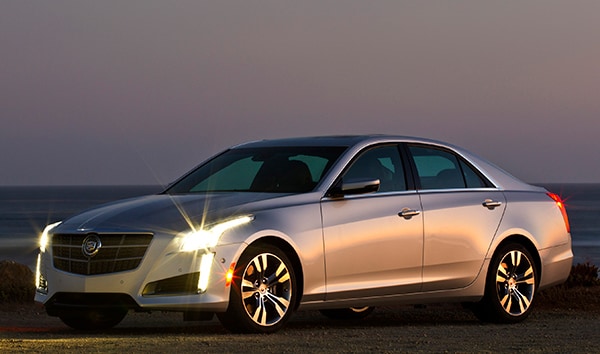 Exterior styling on the 2014 Cadillac CTS retains the sharp angles and vertical lines of Cadillac's Art and Science design language that's been in use for more than a decade. Yet the new CTS is much more sophisticated, with more fluidity between the sharp angles. It bears a close family resemblance to the ATS and full-size XTS sedan.
At 4.2 inches longer and nearly an inch lower, the 2014 Cadillac CTS looks more planted. Visually, the bulk of the CTS is concentrated under its tall beltline; the bottom half looks substantial and solid, with a wide, large grille.
From head-on, the front end is still very crisp and angular. Vertical stripes of LED lights that run the length of the stretched-back headlamps, and continue below down the outside of the tall foglamp housings. Hood lines are deeper and more sculpted, flowing into a sleek and sloping windshield.
Its aerodynamic shape is clear from the side view. The narrow line of LED daytime running lamps stretches back into the front fender, reminiscent of Cleopatra's exaggerated black eyeliner. The relatively low roofline gently sweeps back and down into the rear window, with no interference other than the small center-mounted roof fin. A slight lip on the truck lid helps to guide air coming off the back of the car. Wheel choices vary, and come in an array of painted and polished designs in 17, 18 and 19-inch sizes.
In back, an updated version of Cadillac's vertical taillamps are wide and solid red. The rear bumper, as before, comes to a center point. Below, geometric-shaped dual exhaust ports are integrated into the rear bumper, giving it a clean, symmetrical look.
Interior
Like other Cadillac interiors, materials on the CTS are high-quality and luxurious. Compared to rivals, the cabin of the CTS really shines. Cadillac prides itself on using materials that are authentic; if it looks like wood, it is. Trim and colors vary by model type and package; some wood inserts have a high-gloss finish. Others are open pore, with a very thin coating that allows you to feel the natural pock marks and variation. All interior examples we saw were beautiful, harmonious and classy.
Standard front seats are comfortable, but not heavily bolstered. Those of smaller stature may find the flatter design more comfortable, as more highly contoured large seats sometimes seem to hug in all the wrong places. Upgraded sport seats have more aggressive bolstering, but don't feel overly confining. In a CTS VSport model we drove, bolsters were adjustable, to provide just the right amount of squeeze.
Vinyl upholstery is smooth and durable, and feels leather-like. Genuine leather upholstery is soft and good-looking. Optional semi-aniline leather is buttery and smells delightfully rich, as less protective coating allows more of the natural hide to come through. Although, the latter also requires more care and can be less durable long-term.
A high center console sits between driver and passenger, making each feel like she's in her own compartment. We felt the console was a bit too high, though, and we hit our elbow a few times attempting to shift gears.
Storage in the front seat is okay, but not plentiful. Two center cup holders are large enough for standard-size water bottles, but won't fit larger containers or coffee mugs. Side map pockets are relatively narrow and lack additional cupholder space found in some competitors. There is a clever locking storage area behind the touch screen in the center stack, but it's not convenient to use while driving. The center console is roomy, but it opens sideways with the opening facing the driver, which makes it difficult for the passenger to access.
The star of the center stack is the 8-inch touchscreen, framed by a deep and dramatic U-shaped line. The interior design echoes the lines and shapes of the outside, with sharp angles and rising lines that wrap around and create a seamless flow from the center instrument panel to the doors.
CUE, short for Cadillac User Experience, is Cadillac's voice-activated proprietary interface with an iPad-like touchscreen. While past Cadillac models were fraught with an overwhelming number of buttons on the center stack, CUE drastically cuts down the number of controls to just a handful. It controls audio and telephone functions, as well as directions and map information on cars equipped with navigation.
CUE's home menu is configurable so you can access your favorite functions easily. It also uses proximity sensing, which saves extra steps and keeps your attention better focused on the road. When driving, CUE will display full-screen maps or audio information, but when your hand is nearby, it automatically brings up menu options related to the current function on the screen.
We were pleasantly surprised by the navigation and voice activation. Voice recognition systems can be painfully inaccurate, but CUE understands natural voice commands, meaning you don't need to use pre-canned terms to get it to do something. Even better, it can correctly identify difficult names from an address book, although it will most likely butcher the pronunciation when repeating it back to you.
While CUE is mostly user friendly, there are still a few oddities. One of these is that it uses physical buttons on the center stack, located below the screen for the climate control's fan speed and temperature. However, if you want to change vent mode, you have to go in to the CUE menu. It annoyed us when a barrage of fingerprints appeared on the screen after just a few minutes of use. The CTS does come with a microfiber cleaning cloth, but it's not an elegant solution.
Still, CUE has gotten better since it debuted on the XTS. Software has been upgraded to cut down response time, and we could tell the difference.
The steering wheel in the 2014 Cadillac CTS is comfortable. Not overly thick, yet substantial enough to grip firmly in hand. CTS VSport models have a thicker wheel, but it doesn't feel overly stuffed like some other carmakers' sport wheels. Drivers can toggle through an array of electronic information on the instrument cluster, including speed, fuel economy, distance to empty, and more. An optional configurable thin transistor film (TFT) instrument cluster allows the driver to change the look of the gauges; choices range from clean and simple to highly detailed.
On cars equipped with the Driver Awareness Package, the driver's seat will vibrate when the lane departure warning or forward collision alert is activated. If a vibrating seat isn't your style, you can change the warning to an audible tone. As for us, we think the vibrators should have a manual on/off switch and be repurposed as seat massagers.
Visibility is fine in the CTS, though the instrument panel sits up high. Those of smaller stature may have to raise the seat to see properly. Also, flat, squat sideview mirrors may take some getting used to.
In back, the 2014 Cadillac CTS is still a bit more cramped compared to its rivals. Rear legroom measures 35.4, compared to 37.4 inches in the Audi A6, 36.1 inches in the BMW 5 Series and 35.8 inches in the Mercedes-Benz E-Class. Still, a six-foot-tall passenger can fit behind a six-foot-tall driver with a bit of knee room to spare. Rear headroom is 37.5 inches, compared with the Audi's 37. 8 inches, BMW's 38.3 inches and Mercedes's 38.2 inches.
Cargo space is also a little shy of competitors'. The trunk in the CTS measures 13.7 cubic feet (an increase of only 0.1 cubes compared to the outgoing model), compared with the 14.1 cubic feet in Audi A6, 14.0 cubic feet in 5 Series, 15.9 in E-Class.