2014 Cadillac XTS Introduction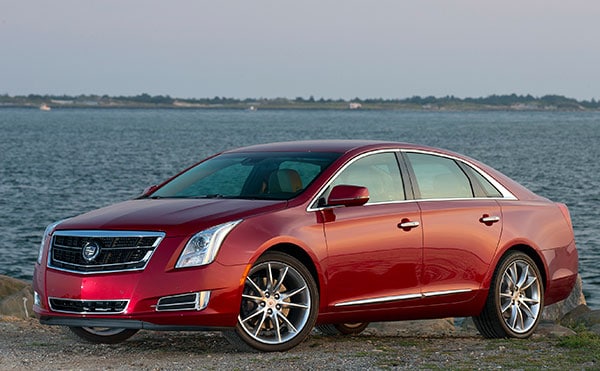 The Cadillac XTS sedan was a new model for 2013, continuing to bring the marque up to the times with sexy shapes replacing cars with designs from the '90s such as the STS and DTS. The styling is bold, consistent with recent Cadillac direction, but not edgy. The Cadillac XTS is roomy and refined, with high-quality interior materials as one expects from Cadillac, and high-tech features such as a configurable electronic TFT (thin-film transistor) instrument cluster.
The basic structure of the Cadillac XTS was originally developed by Opel (that's a good thing) and is also used for the Buick LaCrosse. The base engine is GM's well-liked 3.6-liter V6, mated to a smooth and proven 6-speed automatic transmission. However, new for 2014 is the XTS Vsport, a twin-turbo version of that V6, making 410 silky horsepower with standard all-wheel drive.
We got nine sweet days in the car, and loved the seat time except for some electronic things. Not only the powertrain, but the ride and handling matches that of any European car, and it wasn't too long ago that you could never have said that. The looks, as well. BMWs seem to have lost their distinction, but not this Cadillac. Price-wise, it slots beneath comparable models from BMW, Mercedes-Benz, Audi, Lexus, and even Hyundai, making it a compelling value.
The standard 3.6-liter V6 delivers 305 horsepower and 264 pound-feet of torque at a high 5200 rpm. The Vsport engine is a fast and wonderfully silky twin-turbo V6 making 410 horsepower and 369 pound-feet at a low 1900 rpm, for only a couple miles per gallon less than the EPA-estimated 17/28 in the base model. However, the Vsport requires Premium gasoline because of the engine's higher compression ratio.
The 6-speed automatic transmission with paddle shifters is seamless and obedient. The ride and handling in the base front-wheel-drive XTS is stable and composed. The Vsport gets all-wheel drive and a beefed-up and tuned suspension, and it corners with stability until it's pushed really hard.
Cadillac XTS comes standard with CUE, an acronym for Cadillac User Experience. The system features a large touchscreen and uses proximity sensors and voice recognition to control phone, audio and navigation functions. Like similar systems on other cars, we can't find anyone except the manufacturer who says it's easy. In addition to our nine days in the car, there was an event where 25 Northwest journalists drove the same XTS for about 30 minutes each, and we didn't hear any raving, not that they had time to mess with CUE.
New features for 2014 include standard electric power steering on front-wheel-drive models, available automatic parking assist also on FWD, Intellibeam headlamps that dim automatically, a rear seat entertainment system, front passenger memory seat, and opaque sunroof sunshade.